John Morgan is anything but a predictable man. But, when he says he's going to do something, he usually succeeds against all the odds. For that reason, political experts know to watch what he says very closely.
Last week, he announced that he wouldn't run for Governor as a Democrat. Specifically, he said he can't "muster enthusiasm for any of today's politicians," and that he plans to register as an Independent. When asked if he was denying the possibility that he'd run by POLITICO magazine, he said he wouldn't run "as a Dem."
In other words, he's not ruling out a gubernatorial run as an Independent.
That alone is very indicative that the door is very much open for what many Democrats are hoping for – John Morgan for Florida Governor. Polling shows that Morgan, who's not even an official contender for the Democratic nomination, out-performs the current candidates on the field.
That said, there's another possibility that he may be after a different position altogether – one being currently occupied by U.S. Senator Bill Nelson.
The speculation is coming from the peculiar way Morgan suggested that Nelson run for Florida Governor. In an interview with POLITICO magazine, Morgan said that he would support a candidate he "likes personally." Nelson apparently falls under this category, and there's history to back that up since Morgan has organized numerous fundraisers on his behalf over the years.
But, the way he sells the idea of a Governor Nelson is incredibly strange.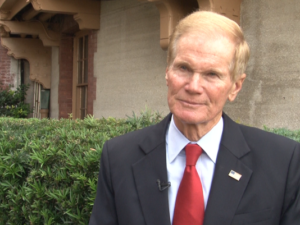 He says that becoming Governor is Nelson's last chance to leave a "legacy." In other words, pay no attention to his record as a three-term U.S. senator, which Morgan says "accomplished nothing." He's endorsing a candidate and kicking them at the same time.
Not to mention the fact that Nelson is about as establishment Democrat as you can get. He's incredibly moderate, very old and has served in the Senate for nearly two decades. He's exactly the kind of candidate Morgan claims he can't get excited about.
Some political experts theorize that this is his way of picking Nelson to be his Democratic contender in a three-way race with himself as an Independent. But, Nelson is no more or less impressive than the current Democratic front-runner, former U.S. Rep Gwen Graham. So again, why push Nelson into the Governor's race if Morgan could easily defeat the other candidates as well?
This points to a more likely motive that he seeks to run for U.S. Senate. Further evidence comes from the fact that Morgan cares deeply about legislative issues, and believes firmly that lawmakers aren't doing enough – especially when it comes to the issue of legalizing marijuana. The Senate would be a much better tool for Morgan to exact that agenda than being Governor.
The fact that Morgan chose the political frontlines of campaigning for medical marijuana as a constitutional amendment in Florida versus lobbying for a bill out of Tallahassee is hugely indicative of his style. He doesn't want to herd cats, as he would have to do as Governor. He doesn't want to lobby. He wants to lead the charge. He'd rather propose a bill and get it to the finish line than try and get a deeply Republican legislature to do anything.
If Morgan is already starting to knock on Nelson as "ineffective," that sounds like a campaign ad in the making.