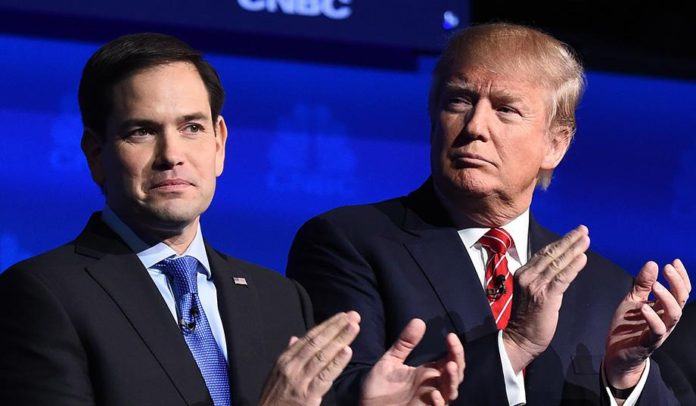 In an unexpected twist, U.S. Sen. Marco Rubio could support of President Donald Trump's new immigration bill.
The bill, now dubbed the Raise Act, sponsored by Senators Tom Cotton (R-AK) and David Perdue (R-GA) would see the total number of legal immigrants admitted into the United States annually reduced by half. In addition, it would turn our immigration policy into a more merit/skill-based system.
"I'm glad to see the president is open to a step by step approach to improving our immigration laws, and I stand ready to work with my colleagues in Congress on common sense proposals to achieve real progress for Americans on this issue," Rubio said in a statement. "I continue to support reform that prioritizes welcoming people to our country based on their skills, not just on whether they have a family member already living here."
Rubio, a first-generation American whose parents emigrated from Cuba, is arguably the political poster-child for immigration reform. In 2013, he sponsored a bi-partisan effort to propose an expanded visa program for low-skilled workers.
Trump's plan does the opposite.
Instead of making it easier for low-skilled, low-income-seeking immigrants to be granted admission into the country, it places higher-skilled foreigners in the front of the shortened line.
"At the end of the day, why do special interests want to bring in more low-skill workers?" said Stephen Miller, the president's policy advisor, in a White House press briefing this week.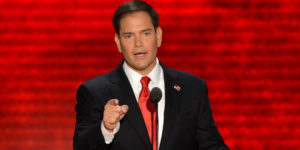 One similarity between Trump's new legislation and Rubio's four years ago was the preference for English proficiency.
"On the day we announced the principles that would shape the immigration bill, we made it clear that English proficiency would now be required for permanent residency for the first time in American history," Rubio said in 2013.
Two other GOP senators who had previously supported Rubio's old legislation were quick to decry the Raise Act.
Sen. Lindsey Graham (R-SC) takes issue with the drastic cuts to legal immigration and the establishment of a merit system because it "incentivizes more illegal immigration."  Sen. Jeff Flake comes at it from the marketplace perspective, suggesting in a statement that this legislation is not "responsive to the needs of our economy."
It's worth noting that current law allows U.S. companies to hire foreign workers for temporary jobs that were unable to be filled by American labor. Those foreign workers would then be invited to stay within the country for the term of their employment, pay taxes on their wages, and promptly return home. While some of these workers are highly-skilled, most of them come here to perform unskilled labor that American workers did not desire in the first place.
Rubio's stance on immigration is fairly conservative, though he does acknowledge that the current system is broken and fixing it should be the priority.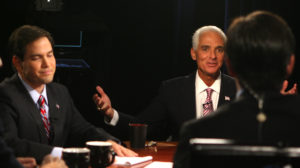 In a debate with former Florida Governor Charlie Crist, Rubio said:
"The Republican Party, unfortunately, has been cast as the anti-illegal immigration party. It is not the anti-illegal immigration party. It is the pro-legal immigration party."
If Rubio decides not to support the Raise Act, it could spell doom for another one of Trump's legislative agenda items. In order to pass, the legislation must receive 60 votes in the U.S. Senate. With Republicans in control of only 52 seats, bipartisan support is the only way to get on the President's desk.
Rubio's work on immigration has yielded bipartisan support in the past and, if he chose to support the bill, could do so again.