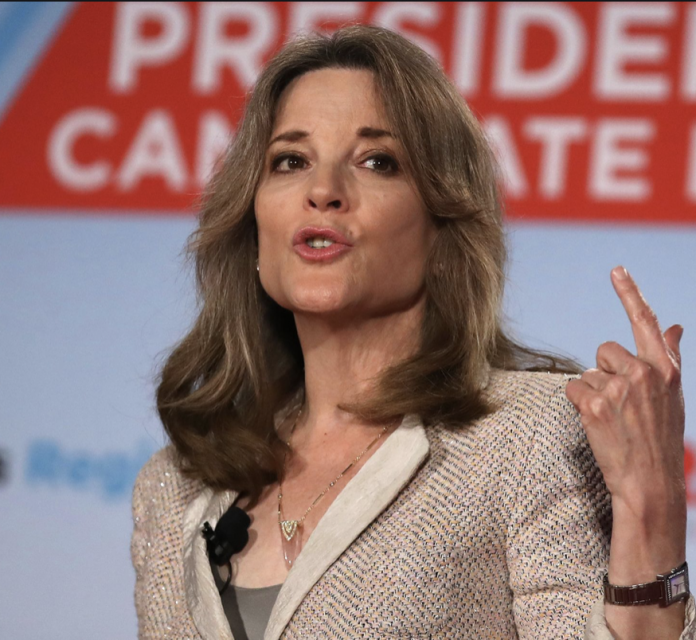 With the new year came speculations that self-help guru and 2020 Democrat Marianne Williamson would end her candidacy for president of the United States. These speculations did not come without merit; over the course of Williamson's time as a candidate, she's failed to gain real momentum.
At a national level, the self-help guru is polling at below 1%. Moreover, she has not attended several Democrat debates due to her failure to meet the DNC's thresholds.
Still, in spite of the aforementioned details, Williamson maintains that she's very much a candidate. On Thursday and via Twitter, the 2020 Democrat released a link to her website statement regarding her campaign.
Reviewing Williamson's Statement on Her Candidacy in the 2020 Election
Williamson's official statement began by her noting her thankfulness for campaign contributions; she also explained that these contributions subsequently allowed her to pay down debts which she's accumulated since running for office. Still, this wasn't enough for the self-help guru to maintain the salaries of folks who worked for her campaign.
Reports of the end of my campaign have been drastically exaggerated today. Here is my statement…https://t.co/fwr94k4ZUW

— Marianne Williamson (@marwilliamson) January 3, 2020
Shortly thereafter, the 2020 Democrat lauded the merits of having a "connection" with voters, stating that this connection is why she remains a candidate.
Williamson moreover opined that large sums of capital shouldn't be necessary for her to talk about issues which are important to her. These issues, by her own admission, include "societal wellness," fostering peace, beating Trump "with a moral vision for the nation," and "a politics of love."
Before noting that her campaign is accepting work from volunteers, Williamson stated that her candidacy contains "inherent value."
In the 2020 Democrat's own words:
"There is an inherent value in talking about those things as a presidential candidate. In my mind, the fact that they couldn't make it into the machine of modern politics is not a reason to stop talking; if anything, it's a reason to KEEP talking."
Will Williamson Ever Drop Out?
Per Williamson's statement, there's no indication that she has plans to end her campaign anytime soon. This comes in spite of the fact that candidates with higher poll numbers and more funding previously bowed out of 2020 race last year.
This morning, Williamson informed her Twitter followers of an upcoming interview on CNN later today.
I'll be appearing on CNN New Day this morning.

— Marianne Williamson (@marwilliamson) January 4, 2020