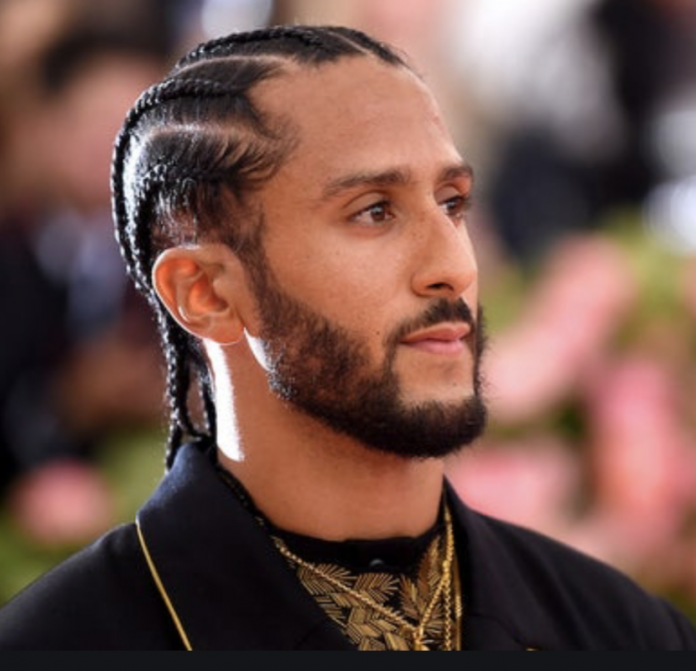 Last week, President Trump ordered a strike which ultimately prompted the death of Qassem Solemani, an Iranian general and known terrorist. Reactions to the strike and Solemani's death are diverse and varied, to say the least.
Many folks in America lauded the president for the strike, noting Solemani's war crimes and murder against countless Americans. Others took issue with the strike, stating that it could trigger war with Iran, thus placing lives of military members in peril.
However, former football player Colin Kaepernick took matters in an entirely different direction. Over the weekend, Kaepernick took to Twitter, accusing America of "terrorist attacks" against brown and black people.
A Closer Look at Kaepernick's Perception of the United States
In the former football player's tweets, he painted America as this dark, evil, and oppressive place that loathes racial minorities. He stated that there was "nothing new" about the United States supposedly "terrorizing" non-white folks. Kaepernick then claimed that the nation's alleged "terrorist attacks" against people of color occur for the sake of expanding American "imperialism."
See for yourself:
There is nothing new about American terrorist attacks against Black and Brown people for the expansion of American imperialism.

— Colin Kaepernick (@Kaepernick7) January 4, 2020
This take on the execution of a known terrorist prompted considerable backlash. Many Twitter users responded to Kaepernick, noting Solemani's crimes against folks of all colors and races, including black and brown Americans. Others questioned why the former football player chose to defend a known terrorist.
You realize the guy we killed, Soleimani, was responsible for killing 600+ Americans including Black & Brown Americans… right? I'm guessing you don't since you thought Fidel Castro was a good guy despite stealing everything from innocent families like mine. Idiotic & vile take.

— Robby Starbuck (@robbystarbuck) January 4, 2020
Colin K coming out in defense of the Iranian regime is actually not surprising at all.

— Mike Cernovich (@Cernovich) January 4, 2020
Sooo… stopping actual terrorism from people who want Americans dead is racist… AND the Americans you try to sell shoes to are the "real terrorists" …got it.

I don't normally go in on boycotts, but I'm done giving Nike money until they fire this clown.

— Tim Young (@TimRunsHisMouth) January 5, 2020
The post about so-called "American terrorist attacks" did not mark the end of Kaepernick's commentary. He then proceeded with additional statements in another tweet; in his follow-up remarks, the former football player went after the folks who serve in America's military. Per his own admission, Kaepernick believes that military officials are just tools used to harm "the non-white world."
America has always sanctioned and besieged Black and Brown bodies both at home and abroad. America militarism is the weapon wielded by American imperialism, to enforce its policing and plundering of the non white world.

— Colin Kaepernick (@Kaepernick7) January 4, 2020
Like the former tweet, this take also engendered some very strong pushback. More Twitter users came out, noting the opportunities which America has afforded Kaepernick. Then, others slammed the ex-football player for selective outrage and all-out hatred of the United States.
In their own words:
We're killing terrorists, bud. I know you're a spoiled POS that hates America and all…but if you're seriously going to defend Islamic terrorism please feel free to move to the Middle East where I'm sure you can experience um, whatever you think you're not finding here. 👌🏻

— Mindy Robinson 🇺🇸 (@iheartmindy) January 5, 2020
There's nowhere in the world Kaep could've made millions playing football. The freedom that made it possible & was paid for with the blood of Americans of all races. He's shown his gratitude by defending Fidel Castro, Qasem Soleimani and Iran while hating those who keep us safe.

— Robby Starbuck (@robbystarbuck) January 4, 2020
Since yesterday's tweets, Kaepernick hasn't shared any new statements. However, in the eyes of many Americans, he's said quite enough already. Despite Kaepernick's views on the United States or the military, Qassem Solemani is still dead.
In the wake of the terrorist's demise, President Trump has warned Iran to watch their threats. Trump moreover maintains that if Iran attacks America in any way, they'll be hit "very fast and very hard."
Iran is talking very boldly about targeting certain USA assets as revenge for our ridding the world of their terrorist leader who had just killed an American, & badly wounded many others, not to mention all of the people he had killed over his lifetime, including recently….

— Donald J. Trump (@realDonaldTrump) January 4, 2020
….targeted 52 Iranian sites (representing the 52 American hostages taken by Iran many years ago), some at a very high level & important to Iran & the Iranian culture, and those targets, and Iran itself, WILL BE HIT VERY FAST AND VERY HARD. The USA wants no more threats!

— Donald J. Trump (@realDonaldTrump) January 4, 2020