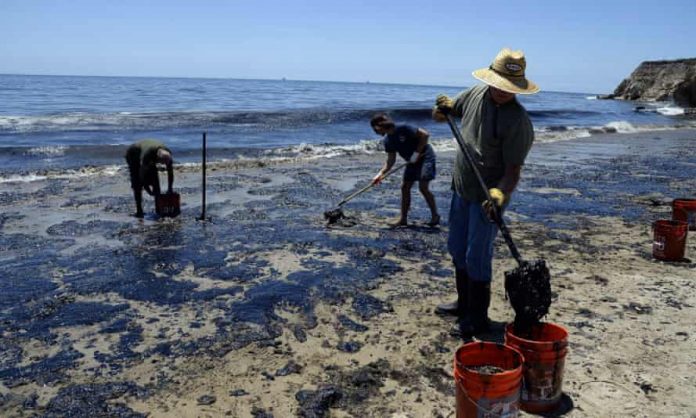 This weekend a 13-square-mile oil is causing a California Coast ecological disaster. Ocean wildlife is dying when exposed to the oil. Fish, birds, and other animals who have ocean habitats are threatened.
 It is one of the largest oil spills in Southern California history. The Coast Guard believes the massive spill has originated from a pipeline leak from a facility operated by Beta Offshore. There is evidence that it was caused when a ship's anchor pierced the underwater pipeline.
Along with Beta's Incident Management Team local officials and scientists to try and mitigate the damage.
The incident prompted the closing of the pipeline. Officials have also temporarily closed the local beaches. And Huntington, Laguna, and Newport Beaches have all been impacted. 
The entire coastline and associated events are currently closed. And Monday, on the third day of the Pacific Airshow in Huntington Beach, was canceled.
Beta Offshore
The company has been operating in an area where drilling has taken place for decades. Three oil platforms operate a complex system of wells and pipelines.
The oil spill off the coast of Huntington Beach, CA, has devastated one of the most biologically rich areas of coastal waters in the United States. We must end our reliance on fossil fuels. https://t.co/n1wlVOohuO

— NRDC 🌎🏡 (@NRDC) October 4, 2021
Long Beach-based Beta Offshore employs engineers, managers, and administrative professionals. They also operate an oil sales facility in the port. Beta's parent company Amplify Energy, is one of the largest oil producers in Southern California.
The company currently operates three offshore oil platforms in the waters about 12 miles south of Long Beach. The processing hub is Elly, installed in 1980. It is about 9 miles off the coast. And processes crude oil from its two other platforms, Ellen and Eureka.
The Coast Guard is responding to an oil slick reported to be approximately 13 square miles in size, 3 miles off Newport Beach. More info to follow

— USCG Los Angeles (@USCGLosAngeles) October 2, 2021
California coast ecological disaster
In a statement, Sunday Amplify Energy claims that the pipeline is shut down. And workers are suctioning off the oil as quickly as possible.
The statement claims that approximately 3,150 gallons of oil were recovered from the water. But the local ecosystem has been hit hard by the spill.
"We've started to find dead birds & fish washing up on the shore," Orange County Supervisor Katrina Foleyconfirmed in a tweet.