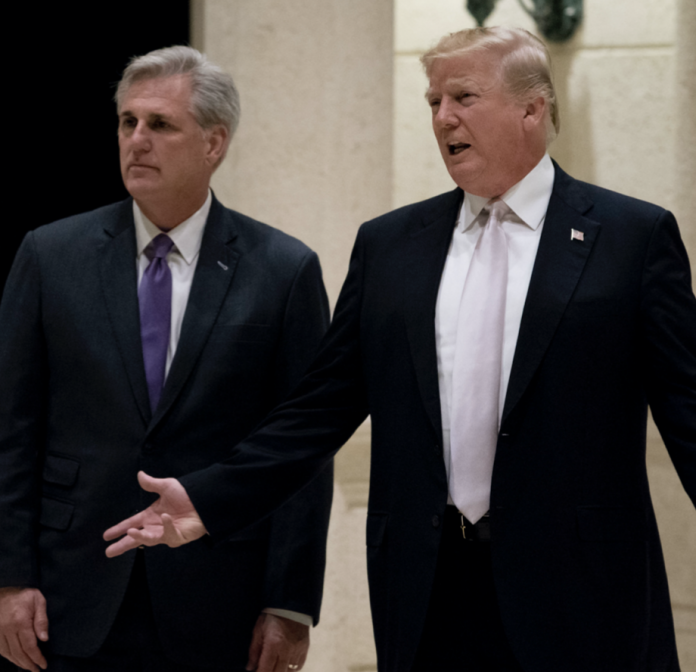 Impeachment proceedings from last year remain ongoing as Democrats hold onto both impeachment articles.
In December, House Democrats alleged that Trump committed obstruction of justice and abuse of power. During the votes of both of these articles, not a single Republican offered their support. As a matter of fact, the impeachment articles generated so much unpopularity that even a few Democrats voted against them.
Despite the New Year, any sign that Pelosi plans to fork over the impeachment articles to the Senate is absent. However, new reports from House Minority Leader Kevin McCarthy indicate that Pelosi may be attempting to bring a THIRD article of impeachment against Trump.
Everything You Need to Know About McCarthy's Warning
The House Minority Leader spoke with Fox News host Jeanine Pirro on Saturday. Throughout his time on-air, McCarthy provided new insight not only into the impeachment proceedings, but also into moves that the House Speaker is making behind the scenes.
Now it looks like Speaker Pelosi wants to add another article of impeachment against the president.

That is their only agenda. Democrats don't care about anything else except impeaching President Trump. pic.twitter.com/4zxyubzFuA

— Kevin McCarthy (@GOPLeader) January 5, 2020
According to Leader McCarthy, Pelosi's House Attorney is working to get a judge's go-ahead for a third impeachment article against the president. The House Speaker's interest in yet another impeachment article comes as she sits on the ones which House Democrats managed to pass. McCarthy moreover pointed out the inherent weakness of the case to impeach President Trump.
In the House Minority Leader's own words:
"An interesting thing happened just yesterday. In the U.S. District Court of Appeals inside D.C. Pelosi's House Attorney, Douglas Letter made the argument before a judge that they could offer another Article of Impeachment."
Will Pelosi Bring a Third Impeachment Article Against President Trump?
At this time, the House Speaker has not come out and publically announced or discussed a third article of impeachment. However, the work of her House Attorney indicates that Pelosi may be testing the waters and seeing if a third impeachment article is on the table.
During remarks with Pirro, Leader McCarthy also noted that Pelosi is ultimately "showing her hand" and admitting the inevitable failure of the two impeachment articles once they arrive in the Senate.
McCarthy is not the only Republican with this outlook. Many Republicans in the Senate maintain that Pelosi ought to be limited with a cut-off point for how long she can harbor impeachment articles.
Earlier this morning, the president also put out a series of tweets, calling for the end of impeachment proceedings.
The Impeachment Hoax, just a continuation of the Witch Hunt which started even before I won the Election, must end quickly. Read the Transcripts, see the Ukrainian President's strong statement, NO PRESSURE – get this done. It is a con game by the Dems to help with the Election!

— Donald J. Trump (@realDonaldTrump) January 6, 2020
Congress & the President should not be wasting their time and energy on a continuation of the totally partisan Impeachment Hoax when we have so many important matters pending. 196 to ZERO was the Republican House vote, & we got 3 Dems. This was not what the Founders had in mind!

— Donald J. Trump (@realDonaldTrump) January 6, 2020