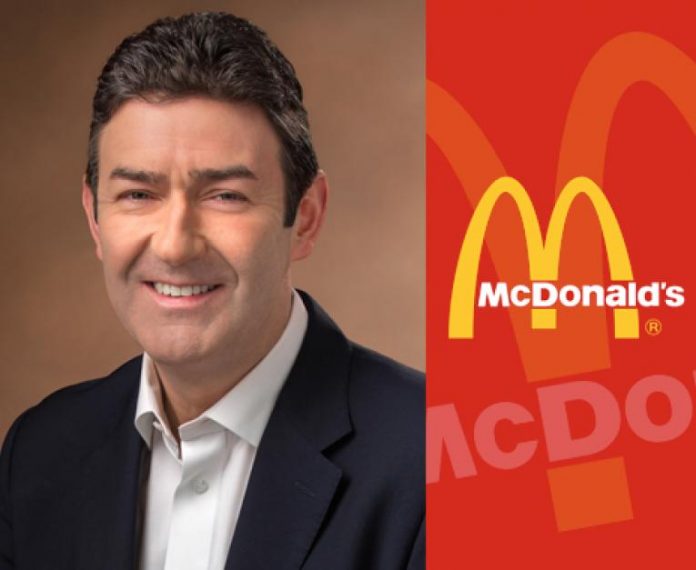 McDonald's has filed suit against its ex-CEO, Stephen Easterbrook to recover his two-year severance pay, stock options, and benefits package which is estimated to be worth over $40 million.
They want everything they paid out under his separation agreement returned to the company. They are also blocking Easterbrook from exercising any stock options or selling his stock.
Esterbrook served as CEO from March 2015 untill he was terminated on November 1, 2019, for an inappropriate consensual relationship with an employee. At the time, Easterbrook claimed the relationship was "not physical" and allegedly lied to the Board that there were no other relationships.
The Board subsequently decided to terminate his employment contract "without cause," to avoid a protracted legal battle, the company said in their legal filing. He was replaced by the president of McDonald's USA, Chris Kempczinski who is being tasked by the company to usher in a new era of inclusion and higher standards.
The suit was filed on Monday, Aug. 10, with the Court of Chancery of the State of Delaware. This may be the most public corporate airing of dirty laundry in recent memory. 
The complaint alleges that Easterbrook lied, committed fraud, destroyed evidence, as well as violated corporate policy by having sex with three of his subordinates. McDonald's also claims to have photographic as well as video evidence. 
McDonald's claims, "That evidence consisted of dozens of nude, partially nude, or sexually explicit photographs and videos of various women, including photographs of these Company employees, that Easterbrook had sent as attachments to messages from his Company e-mail account to his personal e-mail account."
The improper relationships took place in 2018 and the beginning of 2019, at the same time that Mcdonald's employees were complaining about sexual harassment in the workplace.
It is also alleged that the now disgraced CEO approved a "discretionary stock grant for Employee-2 while they were in a sexual relationship," despite "his representation to outside counsel that he had never engaged in a physical sexual relationship with a Company employee."
————————————————–
Have a story you want USA Herald to cover? Submit a tip here and if we think it's newsworthy, we'll follow up on it.
Want guaranteed coverage? We also offer contract journalism here.  Just be sure you're comfortable giving up editorial control, because our journalists are dogged and will follow the story through to it's conclusion. The story will be published to our exacting standards, without regard for your preferred slant.
Want to contribute a story? We also accept article submissions — check out our writer's guidelines here.