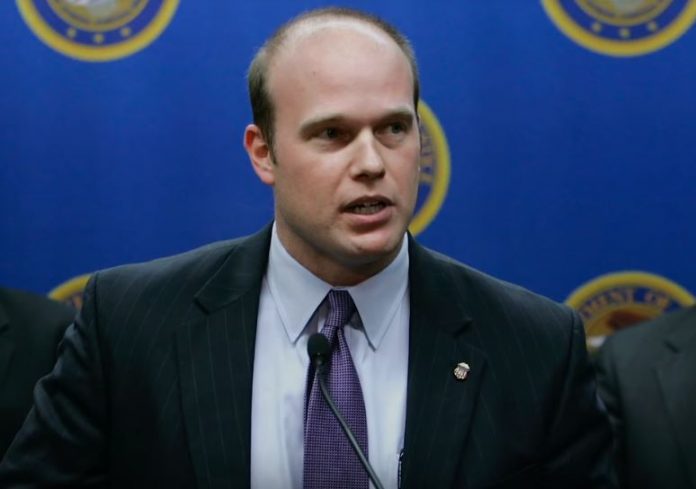 A coalition of 15 state Attorneys General filed amicus brief supporting Maryland's motion challenging the appointment of Matthew Whitaker as Acting U.S. Attorney General.
On November 13, Maryland Attorney General Brian Frosh requested a U.S. District Court to designate Deputy Attorney General Rod Rosenstein to the position instead of Whitaker.
The motion was part of Maryland's ongoing litigation against the Trump administration over its attempts to "sabotage" the Affordable Care Act (ACA).
 Amici state's arguments against Whitaker's appointment
In their amicus brief, the Attorneys General argued that Whitaker's appointment is illegal. They also concluded that the designation ignores the long-established vacancy succession laws. It violates Congress' designation of the Deputy Attorney General as Acting Attorney General.
Additionally, the Attorneys General contended that Whitaker's designation "threatened the legitimacy" the Department of Justice (DOJ) action and its relationship with states.  They sought immediate resolution on the matter.
"This unlawful appointment requires immediate correction to prevent harm to the Amici States caused by the actions of an improperly designated Attorney General whose decisions are subject to possible invalidation," according to the Attorneys General.
"The relationship between the Justice Department and the States is so essential — whether it is collaborative or adversarial — that any doubts about the legitimacy of the Acting Attorney General threaten to harm the Amici States," they added.
Attorney General Karl Racine of the District of Columbia led the filing of the amicus brief.
In a statement, Racine said, "President Trump cannot ignore federal law and Congress's confirmation powers to elevate a non-confirmed political appointee to act as the nation's highest law enforcement officer. We're filing an amicus brief supporting Maryland because President Trump's appointment of Mr. Whitaker is illegal, unconstitutional, and runs counter to the rule of law."
On the other hand, New York Attorney General Barbara Underwood, commented, "The law is clear – and Matthew Whitaker's appointment as Acting Attorney General is illegal, violating long-standing rules. Our coalition of Attorneys General will continue to do what's necessary to protect the rule of law."
Racine, Underwood, together with the state attorneys general of Connecticut, Delaware, Hawaii, Illinois, Maine, Massachusetts, New Mexico, North Carolina, Oregon, Pennsylvania, Rhode Island, Virginia and Washington signed the amicus brief.