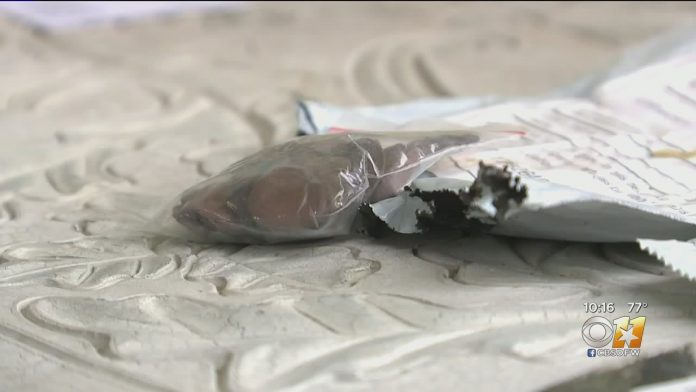 On Monday, Texas Agriculture Commissioner Sid Miller issued a statement to Texans urging "extreme caution" if they receive unsolicited seed packets from China in the mail. The mystery seeds have been reported in more than 30 states. These states have issued all issued warnings.
As of Monday, 200 Texans have reported receiving the seeds. These packets have been sent to hundreds of residents in 31 U.S. states. They have also been confirmed to have been sent to Universities in the U.S. and Canada. 
Also on Monday, a Virginia Department of Agriculture and Consumer Services (VDACS) spokesperson told the New York Times that the agency has received "over 900 emails and several hundred telephone calls" from people who claimed to have received the seeds.
"I am urging folks to take this matter seriously," Commissioner Miller said. "An invasive plant species might not sound threatening, but these small invaders could destroy Texas agriculture. TDA has been working closely with USDA to analyze these unknown seeds so we can protect Texas residents."
USDA Investigating
The packages have gotten the attention of a variety of state and federal investigators. The U.S. Department of Agriculture's (USDA) Animal and Plant Health Inspection Services (APHIS) is working with the Department of Homeland Security's Customs and Border Protection and other federal and state agencies.
The packages are falsely labeled usually as toys, jewelry, or earbuds. The packages, based on photographs and statements from a variety of federal and state government officials are unsolicited. Some seem to have been mailed by China's state-owned postal company. Others are Amazon-shipped. All have Chinese lettering on the outside of the packages.
Inside the package are seeds. There are all kinds of different seeds popping up and it's unclear if any of them or invasive, poisonous or potentially threatening to agriculture.
The mysterious seeds have not all been identified. In Louisiana, Agriculture and Forestry Commissioner Mike Strain reported that some of the packages sent to residents there appear to contain seeds for water lily plants.
They are being analyzed by the USDA and many state Agriculture departments. 
Anyone that receives these seeds is urged not to open the plastic bag that contains them. Certainly do not plant the seeds. Keep the contents contained in their original packaging and contact your local state agriculture department. It can also be reported to the USDA at the Anti Smuggling Hotline number at 800-877-3835 or by sending an email to [email protected]. 
"We don't want people opening those up, don't put them in the mail, certainly don't plant them. Contact us. Let us pick them up. Treat them like they are radioactive like they are Kryptonite," Miller said in an interview with a local TV station.
Amazon brushing scheme is possible 
There have been some reports that the mystery seeds are the result of an "Amazon brushing" scam.
North Carolina's Department of Agriculture and Consumer Services also reported the deliveries were "likely the product of an international Internet scam."
"According to the Better Business Bureau, foreign, third-party sellers use your address and Amazon information to generate a fake sale and positive review to boost their product ratings," said Phil Wilson, director of the Plant Industry Division. "Seeds are just one of the items used in this scam, however, you could receive other inexpensive items such as rubber bands, plastic toys, or empty bags."
A brushing scam is where an Amazon vendor tries to bolster their product ratings to increase visibility online by shipping an unsolicited inexpensive product to an unknowing receiver and then submits glowing positive reviews on the receiver's behalf under the guise of a verified owner.
They typically set up a fake email account to create an Amazon profile, then purchase the items with a gift card and ship them to the address of a random person.
Once the package is delivered, the owner of the Amazon account is then listed as a "verified buyer" of the product and can write a positive review of it that gets higher placement on product pages because of their status, according to James Thomson, a former business consultant for Amazon.
However, the deliveries of the plant seeds seem to be more widespread than first thought. This may be an underreported phenomenon. Many people may have thrown the packages away on receipt. It is also not clear if it's Amazon or another e-commerce site where the fake reviews are being posted.
————————————————–
Have a story you want USA Herald to cover? Submit a tip here and if we think it's newsworthy, we'll follow up on it.
Want guaranteed coverage? We also offer contract journalism here.  Just be sure you're comfortable giving up editorial control, because our journalists are dogged and will follow the story through to it's conclusion. The story will be published to our exacting standards, without regard for your preferred slant.
Want to contribute a story? We also accept article submissions — check out our writer's guidelines here.