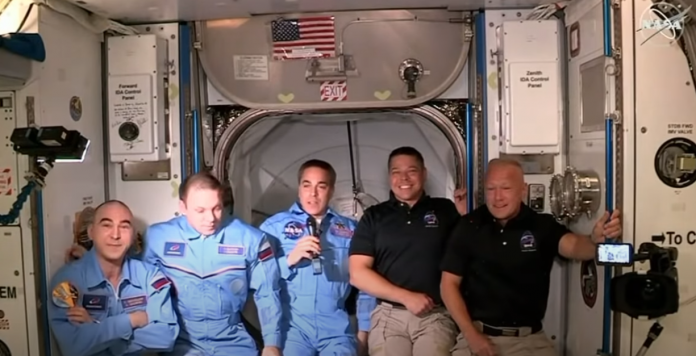 The SpaceX Crew Dragon is set to return from Earth orbit on August 1, 2020, according to NASA Administrator Jim Bridenstine. Capsule splashdown is scheduled for August 2.
On Tuesday, July 21, NASA astronauts Chris Cassidy and Robert Behnken ventured out of the International Space Station (ISS) to conduct a spacewalk. They were sent to the ISS to complete work on a 3.5-year effort to upgrade the station's power system. This is the 300th spacewalk since 1965 when astronaut Edward White stepped out of his Gemini 4 capsule.
There have been 231 spacewalks on the space station to perform assembly, maintenance, and upgrades. Cassidy and Behnken are conducting their ninth and 10th spacewalk, respectively, joining former NASA astronauts Michael Lopez-Alegria and Peggy Whitson, boasting the most spacewalks among Americans.
SpaceX on schedule despite the pandemic
2020 marks almost 20 years of humans living and working continuously aboard the ISS. The result has been breakthrough discoveries, new technologies, and steadily advancing scientific knowledge. 239 people from 19 countries have visited the microgravity space station, contributing to research. 
And while the pandemic has slowed down space operations in other countries, SpaceX continues an aggressive launch schedule. Ars Technica reported that SpaceX remains on track for 22 space missions in 2020, which will break the 2018 record of 21 launches.
The private-public partnership between NASA and companies like SpaceX is continuing to deliver strong results. Globally, SpaceX ranks second only to the Chinese, who have also had two failed launches, for the number of launches in 2020.
But the program isn't just delivering on quantity. Following years of stagnation due to budget cuts, America is finally back in the space race. 
NASA-SpaceX partnership
July 20, 2020, was the 45-year anniversary of the moonwalk, which was the climactic point of America's space program encompassing the Mercury, Gemini, and Apollo missions. 
In 2003 there was an ongoing debate in the U.S. about how much the private sector should be included in government-funded NASA operations. Because NASA's budget didn't stretch to keep the aging shuttle program flight-ready, they eventually turned to the private sector to deliver more innovative and cost-effective solutions.
In 2005, SpaceX was awarded the $100 million dollar launch contract for the Falcon I launch vehicle. This was the beginning of the private-public partnership that rekindled the space program in the U.S.
Founded by Elon Musk, Tesla founder and PayPal entrepreneur, Space Exploration Technologies (SpaceX) was originally formed to advance rocket development and reduce the cost of space transportation. Musk's overarching goal was to enable the colonization of Mars.
Their partnership with NASA has once again put American astronauts in space, and in newer, modern gear too. Private businesses have the ability to redesign and simplify a project.
In space, private-sector commercial partnerships are at the forefront of a new era of space research on the ISS, as well as space platforms of the future. Private companies provide NASA with more choices to address unique research needs and they are becoming the pathfinders for a marketplace in low Earth orbit. 
SpaceX, in particular, has used their own money and resources to invest in space research and development facilities. This reduces the risks and costs that often take place in the highly regulated "red tape" of the Federal government bureaucracy.
Healthy competition between supply partners is encouraged, which translates into savings in both time and money. This competition drives expenses down without impacting quality. 
Space.com reported that the SpaceX Dragon flight mission in 2012 was another historic first for NASA. The Dragon has been called a "masterpiece in engineering." It became the first commercial spacecraft ever to fly cargo to the ISS.
Long-term and far-reaching benefits
With the many SpaceX innovations, the partnership has been reducing the cost of space travel. SpaceX recovers and recycles as many components as possible, in an effort to minimize costs associated with building new boosters for every launch.
The agency's ultimate goal is just within reach. Partnering with industry to achieve a strong ecosystem in which NASA is one of many customers purchasing services and capabilities at a lower cost. This won't just add to the economy it will build a brand new "space economy."
Throughout the years, the space race accelerated new discoveries in science, technology, and medicine. Much of the technology developed by NASA in the 1960s resulted in today's laptops, GPS technology, electronic watches, and smartphones. Space research also resulted in highly fire-resistant materials and accurate satellite weather forecasting.
With NASA providing the opportunity for commercial business on the ISS, American innovation and ingenuity through the private industry will again have a chance to boom. This is an opportunity to accelerate a thriving economy fueled by commercial enterprises within the low-Earth orbit.
————————————————–
Have a story you want USA Herald to cover? Submit a tip here and if we think it's newsworthy, we'll follow up on it.
Want guaranteed coverage? We also offer contract journalism here.  Just be sure you're comfortable giving up editorial control, because our journalists are dogged and will follow the story through to it's conclusion. The story will be published to our exacting standards, without regard for your preferred slant.
Want to contribute a story? We also accept article submissions — check out our writer's guidelines here.