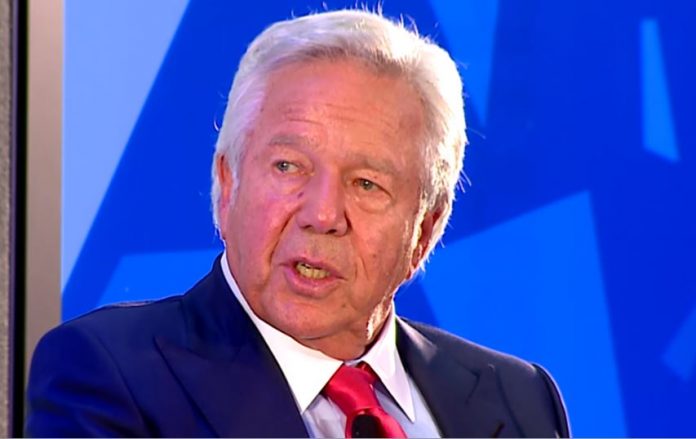 New England Patriots Owner Robert Kraft and has been officially charged with first degree solicitation of prostitution on Monday.
The State Attorney's Office in Palm Beach announced the lawsuit against Kraft and 24 others who were among the hundreds of men targeted by law enforcement's investigation into sex trafficking.
On Monday afternoon, State Attorney Dave Aronberg of Palm Beach County said the charges against Kraft and the other defendants is  punishable by up to one year in prison, a mandatory penalty, up to 100 hours of community service and a mandatory course on the dangers of prostitution.
Kraft is facing two counts of soliciting a person to commit prostitution. The charges against him are second degree misdemeanors, which normally carries up to sixty days imprisonment.
Jupiter Police Department probable cause affidavit against Patriots owner
Based on probable cause affidavit by the Jupiter Police Department, an investigation into the criminal activity at Orchids of Asia Day Spa started in October of 2018.
On January 17 this year, the police officers installed covert surveillance equipment at the day spa pursuant to a sneak and peek warrant. They conducted a video surveillance at the establishment.
On January 20, they saw the Patriots owner entered the establishment. He paid cash at the front desk to Asian female. After that, a person whose name was redacted "escorted Kraft to a room."
The "two hugged each other and Kraft took off all of clothing, laid face up on the massage table and the person hugged him again…began manipulating Kraft's penis and testicles and then put her head down by his penis. This went on for several minutes…wiped Kraft in the area of his genitals with a white towel, helped him get dressed and hugged him again. Kraft gave…a $100 bill plus one other unidentified bill," according to the Jupiter Police Department.
The Jupiter Police Department saw a similar incident involving Kraft at the day spa on January 19.
Jupiter Police Chief Daniel Kerr said they were surprised to learn that the Patriots owner was paying for sex at a massage parlor. He said, "We are equally stunned as everyone else."
Kraft did not commit illegal activity says his spokesperson. "We categorically deny that Mr. Kraft engaged in any illegal activity. Because it is a judicial matter, we will not be commenting further," said the spokesperson in a statement.