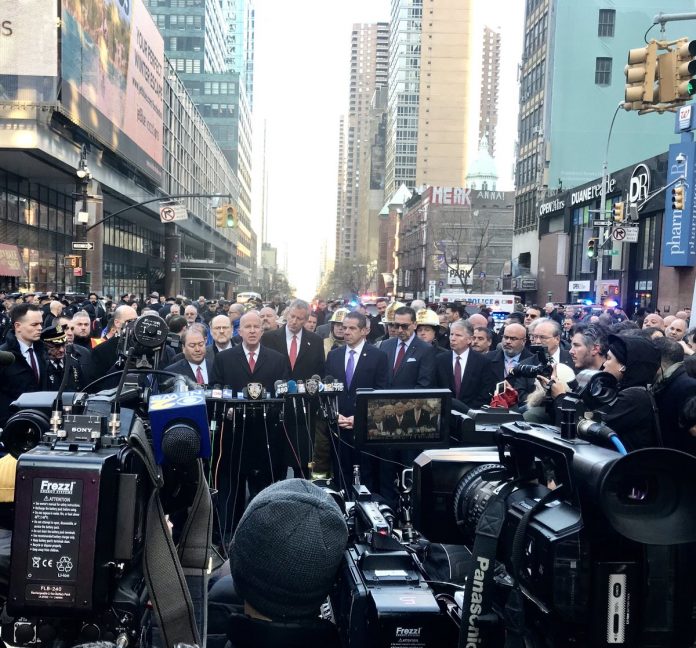 The New York City Policy Department (NYPD) arrested the suspect responsible for the explosion near the Port Authority Bus Terminal on Monday.
In a tweet, the NYPD said, "At approximately 7:20am this morning we had a terror-related incident in NYC. NYPD Police officers responded to calls for an explosion inside the subway passageway on W. 42 Street between 7th & 8th Avenues."
Attacker is of Bangladesh descent
According to the NYPD, the suspect named Akayed Ullah is 27 years old and of Bangladeshi descent. He lives in Brooklyn.  He was wearing and improvised explosion device attached to his body and he intentionally detonated it. Police apprehended Ullah on the scene. He was transported to the hospital because of his injuries.
The New York City Fire Department said three other individuals suffered minor injuries from the explosion.
A senior law enforcement official said the suspect admitted that he made the device at his work place.
New York City has the best law enforcement
In a press conference, Governor Andrew Cuomo said, "This is New York. The reality is that we are a target by many who would like to make a statement against democracy, against freedom.We have the statue of liberty in our harbor, and that makes us an international target."
In addition, the governor emphasized that currently anyone can go to the internet and download  garbage and materials and vile contents. He said the suspect made an amateur level explosive device.
Moreover, Gov. Cuomo said, "That is the reality we live with. The counter reality is that this is New York. We all pitch together and we are a savvy people and we keep our eyes open. We have the best law enforcement across the globe.
On the other hand, New York City Mayor Bill de Blasio said, "Let's be clear – this was an attempted terrorist attack. Thank God the perpetrator did not achieve his ultimate goals. Our first responders were there quickly and the only injuries we know of right now are minor."
I'm with @NYPDONeill and @NYGovCuomo with an update on this morning's incident in Midtown. https://t.co/ehiI9LKEOu

— Bill de Blasio (@NYCMayor) December 11, 2017