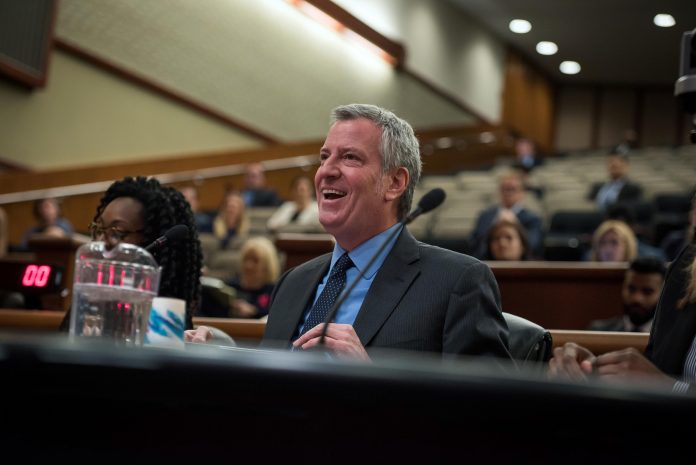 Mayor Bill de Blasio strongly defended New York City's incentive package for Amazon to build its second headquarters and bring thousands of jobs in Long Island City.
On Monday, during the New York State Legislature's Joint Budget Committee hearing, de Blasio said Amazon asked for additional and specific, tailored made incentives." His administration "refused" and explained to the e-commerce giant that they "not doing that anymore in New York City."
"The incentives they got were through existing state incentive programs that any company could access… We did not offer any additional incentives, period. Everything was pre-existent," said de Blasio.
In addition, he pointed out that it was important for New York City to get the tech jobs that Amazon is bringing to the area.
Amazon jobs will create "seismic impact"
According to him, "We had a real live choice to make — 25,000 to 40,000 jobs, many of them good paying, that New Yorkers really want and that would be available to a wide range of New Yorkers. We want to build up our tech community, so to me it was mission critical that this city get those jobs rather than other cities."
Furthermore, de Blasio expected Amazon will have a "seismic impact" in the city through the thousands of jobs it will create and the $27.5 billion in state and city revenue over 25 years. He noted that the ratio of revenue to subsidies from the Amazon deal is 9 to 1. "We never had a single agreement that brought us that many jobs," said the Mayor.
Moreover, de Blasio clarified that under their agreement with Amazon, union members will do the construction of its headquarters and fill building-services positions.
The Mayor and Gov. Andrew Cuomo negotiated the deal with Amazon. They offered $3 billion in tax incentives, but a small group of local officials is opposing the deal.
Sen. Michael Gianaris, the Deputy Majority leader of the State Senate, is among the vocal opponents of the deal.
On Friday, Gov. Cuomo accused Gianaris and other local officials opposing the deal of "governmental malpractice."