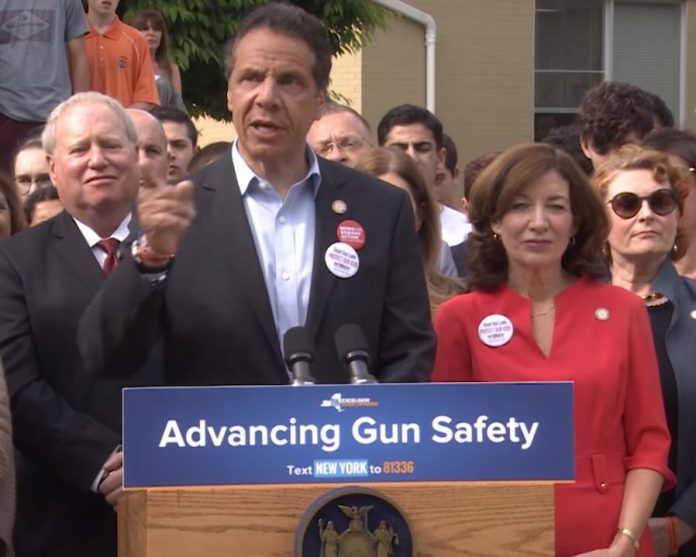 New York Governor Andrew Cuomo launched a statewide bus tour to drum up support for the Red Flag Gun Protection Bill to prevent gun violence.
Last week, Gov, Cuomo introduced the bill, which prevents dangerous individuals from possessing, purchasing or attempting to purchase any type of gun. It also empowers teachers and school administrators to prevent school shootings by pursuing court intervention. The courts will determine if a person have a potential to harm himself/herself or others.
The Red Flag Gun Protection Bill is also known as Extreme Risk Protection Order Bill. The proposed legislation builds on New York's gun laws, which is the strongest in the country.
In a statement, Gov. Cuomo said, "New York will not stand by and wait for Washington to take action against the gun violence and school shootings that have become all too common in this country."
In addition, the governor said, "Together, we can and will pass this common sense gun legislation. We will continue to fight to ensure gun violence has no place in this great state."
During a press conference, Gov. Cuomo  noted that 23 school shootings already occurred in the country. According to him, "Since the beginning of the New Year, more children died from gun violence than people defending this nation died at war."
He emphasized that people must resist school shooting because it is the "most cruel, bizarre and insane activity."  Accrding to him, "We can do something" to address the problem by passing the Red Flag Gun Protection Bill.
Gov. Cuomo encouraged New Yorkers to speak up tell their state senators, "We need this bill passed. It's common sense. It's beyond politics."
Last month, Gov. Cuomo signed a legislation to remove guns from domestic abusers. He also introduced a bill to extend the backround check waiting period from 3 days to ten days.
On the other hand, Lt. Gov. Kathy Hochul said, "With this legislation, we're continuing our push for common sense gun measures…Gun violence has had an enormous toll on our communities…New York is leading the nation in an effort to protect our students and save lives."