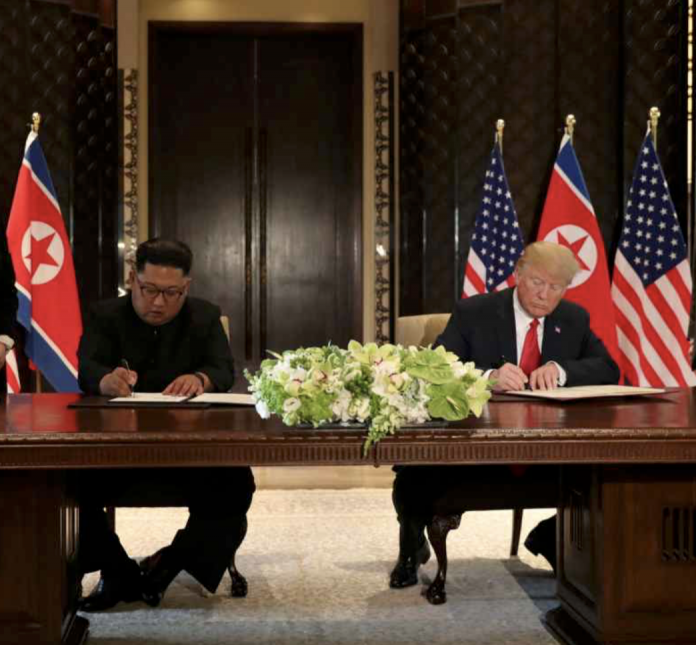 (This report is a follow up to the first leg of the Singapore summit, as previously documented by USA Herald.)
In the wee hours of Tuesday morning, President Trump and Kim Jong Un made history by signing a denuclearization agreement, reports The Hill.
An Overview of the Signed Denuclearization Agreement
Yesterday's historic Singapore summit garnered much press as President Trump and North Korean leader Kim Jong Un convened in Singapore. Despite a previous cancellation of the meeting, the two leaders managed to gather together and get along well. Both Donald Trump and Kim Jong Un expressed their willingness to work with one another and leave previous hostilities in the past. The sitting U.S. President even declared that he and the North Korean leader now have a "great" relationship.
However, the aforementioned Singapore summit produced more results than some individuals might have anticipated. Earlier today, the two leaders sat down for a signing ceremony. During this ceremony, both President Trump and Kim Jong Un formally signed and agreed to the denuclearization of the Korean Peninsula. In exchange, the agreement moreover affirms that the U.S. President will halt combined military unions with South Korea.
Although all details regarding the denuclearization agreement were not revealed, an excerpt from the related hereinafter statement read as follows:
"President Trump committed to provide security guarantees to [North Korea], and Chairman Kim Jong Un reaffirmed his firm and unwavering commitment to the complete denuclearization of the Korean Peninsula."
What Happens Now?
The forthcoming results of the recently signed denuclearization agreement remain to be seen. Nevertheless, the Singapore summit continues to make rounds in the press and trend on social media. Americans of all political backgrounds and ideologies are weighing in with their thoughts, takeaways, and predictions.
Some individuals have criticized what they view as the lack of specific intel regarding the recently signed denuclearization agreement. Conversely, others noted the history made during the earlier Singapore summit coupled with the apparent, mutual willingness of both leaders to work together.
Finally, President Trump informed reporters of the positive, upcoming impacts of the denuclearization agreement:
"I think both sides are going to be impressed with the result. We're going to take care of a very big and very dangerous problem for the world."
Just spoke with FM Kono & FM Kang to provide a brief readout of today's meeting btw @POTUS & Chairman Kim at #singaporesummit pic.twitter.com/YRHgvf0V94

— Secretary Pompeo (@SecPompeo) June 12, 2018
With the success of the #SingaporeSummit, the world is one step closer to peace on the Korean Peninsula. This historic summit is a tribute to the steadfast leadership of @POTUS on the world stage and an important milestone on the path to a nuclear free Korean Peninsula. 🇺🇸

— Vice President Mike Pence (@VP) June 12, 2018
Joint Statement of President Donald J. Trump of the United States of America and Chairman Kim Jong Un of the Democratic People's Republic of Korea at the #SingaporeSummit pic.twitter.com/cSubS9RRJj

— Dan Scavino Jr. (@Scavino45) June 12, 2018
— Donald J. Trump (@realDonaldTrump) June 12, 2018