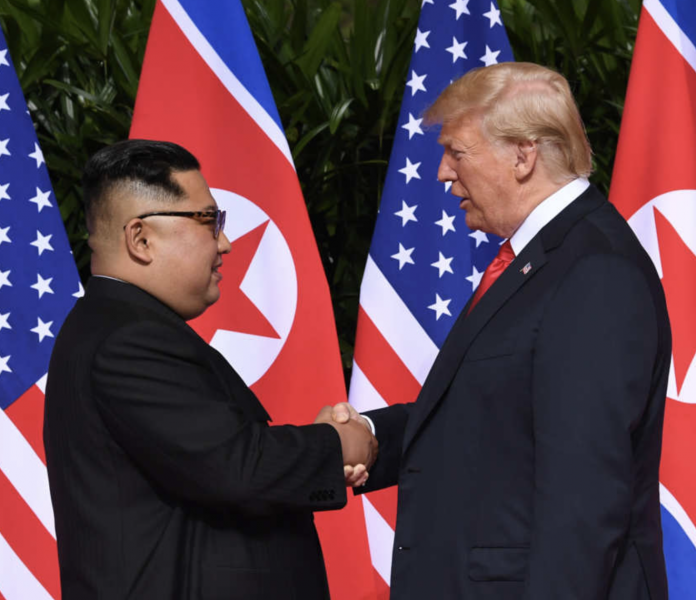 On Monday, President Trump and North Korean leader Kim Jong Un officially met for the first time in Singapore, notes The Hill.
An Overview of the President's Meeting with Kim Jong Un
The Singapore summit between President Trump and Kim Jong Un has faced widespread speculation and conversation. While some Americans expressed hopefulness upon learning of the then-forthcoming gathering, others vocalized their cautious optimism. However, despite a prior cancellation, the leader of the free world and of North Korea have officially met one another.
After the two world leaders shook hands and greeted each other warmly, they turned to the press. President Trump stated that he felt "great" and could foresee "tremendous success." Likewise, Kim Jong Un declared that he and President Trump overcame obstacles by convening with one another.
Prior to meeting with the North Korean leader, the President tweeted, expressing optimism about the summit.
…Create peace and great prosperity for his land. I look forward to meeting him and have a feeling that this one-time opportunity will not be wasted!

— Donald J. Trump (@realDonaldTrump) June 9, 2018
On Monday, Donald Trump also told reporters that he and Kim Jong Un have an "excellent relationship." The two world leaders met with one another for roughly 45 minutes before their advisors joined them. On Tuesday, Trump and Kim Jong Un will meet with one another yet again; this time, the world leaders will attempt to familiarize themselves with one another and tackle various issues which have engendered animosity between America and North Korea.
Monday's meeting between Donald Trump and Kim Jong Un is historic on several counts. Many Americans have noted that even one year ago, a meeting between a sitting U.S. President and the North Korean leader would be regarded as an impossibility.
To Be Continued…
As previously stated, President Trump and Kim Jong Un will convene yet again later today. Thoughts and feedback regarding the first interactions between the two world leaders is currently making the rounds in the press and on social media. "#SingaporeSummit" and "#TrumpKimSummit" are moreover some of the top trends on Twitter at this time.
Ultimately, the results of the Singapore summit remains to be seen. However, the statements from President Trump and Kim Jong Un are indicative of optimism and two people who appear willing to work together.
"We're going to have a great discussion and I think tremendous success. We're going to be tremendously successful, and it's my honor, and we will have a terrific relationship," affirmed the President to reporters
Kim Jong Un also shared similar sentiments:
"The old prejudices and practices worked as obstacles on our way forward, we've overcome all of them. We are here today."
.@POTUS Donald J. Trump meets with North Korean leader Kim Jong Un at the #SingaporeSummit. pic.twitter.com/L3BcOPP26J

— Department of State (@StateDept) June 12, 2018
President Trump & Chairman Kim Jong-un are currently in 1:1 bilateral meeting with their interpreters. #SingaporeSummit pic.twitter.com/DKpAHH1kIP

— Dan Scavino Jr. (@Scavino45) June 12, 2018
HISTORY. #SingaporeSummit pic.twitter.com/XF3GNzzBui

— Dan Scavino Jr. (@Scavino45) June 12, 2018