The New York State legislature passed a bill prohibiting undetectable firearms including 3D printed guns statewide.
Under A.763/S.1414-A, it is illegal to manufacture, sell, transport and possess firearms that cannot be detected by x-ray machines and metal detectors.
The legislation expands on the package of comprehensive gun safety measures passed by the legislature and signed into law by Gov. Andrew Cuomo. The new laws:
Allow a court to issue an extreme risk protection order, prohibiting dangerous individuals from purchasing or possessing a firearm.
Expand the background check waiting period to 30 days to make sure that the person purchasing a gun has no criminal record.
Requires out of state citizens who own homes in New York to apply for a firearm license and to waive the confidentiality of their home state mental illness records;
Prohibit the manufacture, sale and possession of bump stocks and other similar devices.
Prohibit a school administrator from arming teachers or employees.
Create a municipal gun buyback program.
New York continues to lead in preventing gun violence       
In a statement, New York Assembly Speaker Carl Heastie, said, "As rates of gun violence increase across the country, New York continues to lead the way in prevention by passing common sense gun safety legislation. This bill demonstrates our commitment to keeping our kids and communities safe through thoughtful and comprehensive legislation."
Assembly member Tom Abinanti, the sponsor of A.763, commented, "Our gun laws must be updated to take into account the ever-evolving capabilities of the digital age. Today's technologies permit anyone to make component parts for firearms with materials that cannot detected by traditional security machines. My legislation would help protect New Yorkers against those who would bring guns to areas where they are prohibited for no good purpose."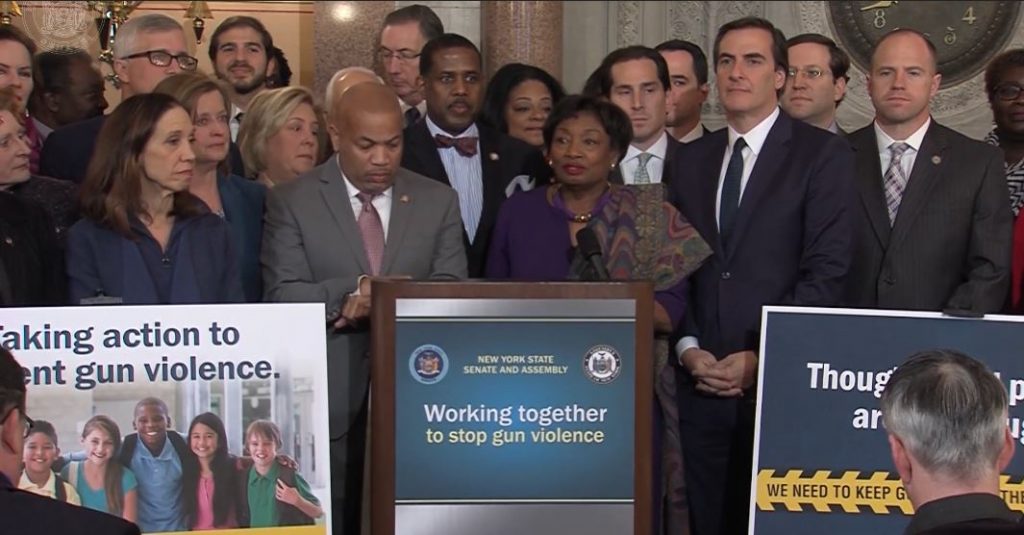 Legislation will hold manufacturers of undetectable guns accountable
On the other hand, Senate Majority Leader Andrea Stewart-Cousins, "Our country is under assault from gun violence, and there is a flood of firearms hitting our streets. Banning undetectable guns should be a non-controversial priority for all elected officials, yet it took the new Senate Democratic Majority to finally bring this legislation to the floor for a vote."
State Sen. Kevin Parker, the sponsor of S.1414-A commented that it is their duty to "do everything in their power to protect New Yorkers from gun violence." He added that his legislation will "hold gun manufacturers accountable for knowingly producing undetectable firearms."
Other states enacted similar legislation banning untraceable weapons including 3D printed guns. Earlier this month, Washington State Gov. Jay Inslee signed a bill banning any person from making or possessing undetectable guns and sending printable 3D gun file to anyone.
Last year, a federal judge issued a temporary restraining order stopping the publication of software for automated production of 3D printed guns.