Over the years he worked with NBA superstar Michael Jordan and counts him as a close friend. So, he talked to Jordan, whose own father was murdered, while he was writing his book. And Jordan urged him to contact David White's family.
 Miller says he has relived the killing every day of his life. The secret was hard to live with. But he didn't name White in the book. And he didn't take Jordan's advice to reach out to the dead man's family before he went public with his secret.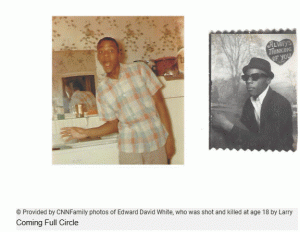 David White murdered on the streets of Philadelphia
Miller was a drunk teenager on the streets with his gang, 57 years ago. On the corner of 53rd and Locust on September 30, 1965, sixteen-year-old Miller murdered David White. 
The police rounded up Miller and his friends a distance away from where White fell.
Edward David White was 18 when he died. He was the father of an 8-month-old. And a second child was born after his death. His family said he was on his way home from work when he died. And that he had no gang affiliation.
Larry Miller living in prison 
Miller was prosecuted as an adult. And he served 4½ years in prison before he was paroled. He started his education during this time.