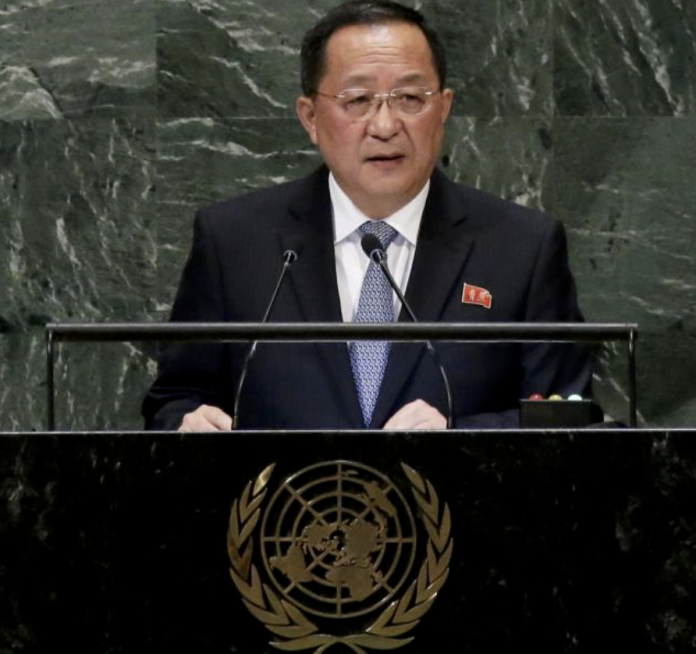 On Saturday, North Korean Foreign Minister Ri Yong Ho criticized America during his speech at the United Nations General Assembly, according to The Hill.
An Overview of Ri Yong Ho's Remarks
North Korea's foreign minister shared the following statements during his aforementioned speech:
"Without any trust in the U.S., there will be no confidence in our national security. Under such circumstances, there is no way we will unilaterally disarm ourselves first."
Ri Yong Ho furthermore lamented over America's current sanctions against North Korea:
"The perception that sanctions can bring us on our knees is a pipe dream of the people who are ignorant about us. But the problem is that the continued sanctions are deepening our mistrust."
However, the United States maintains a different outlook on the sanctions. Secretary of State Mike Pompeo recently explained that sanctions against North Korea are merely precautionary measures:
"Enforcement of Security Council sanctions must continue vigorously and without fail until we realize the fully, final, verified denuclearization."
Nevertheless, Ri Yong Ho maintained that North Korea has made several acts of good faith. The foreign minister pointed out "stopping nuclear and [intercontinental ballistic missile] tests, dismantling the nuclear test site in a transparent manner and affirming not to transfer nuclear weapons and nuclear technology under any circumstances." North Korea also believes the United States has failed to evidence a "corresponding response."
More on the United States and North Korea
The United States and North Korea have made considerable headway in 2018. Earlier this year, President Trump and Kim Jong Un convened in Singapore. Their meeting subsequently led to the mutual signing of a denuclearization agreement. However, as evidenced by Ri Yong Ho's remarks, certain degrees of discord still remain alive and well.
Last month, President Trump faulted China for the lack of progress between U.S.-North Korea relations. The president stated that China's influence as North Korea's greatest trading partner is an influential factor.
The lack of progress on the signed denuclearization agreement furthermore prompted Trump to cancel Pompeo's planned visit to North Korea.
President Trump has not yet publicly responded to the assertions made by North Korea Foreign Minister Ri Yong Ho.