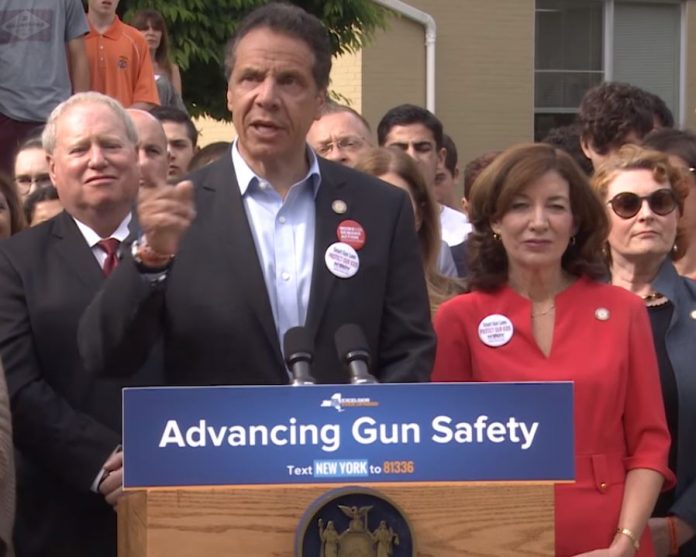 New York Gov. Andrew Cuomo doubled down his condemnation of the National Rifle Association, which claimed that the state's actions are hurting its finances.
The NRA filed a lawsuit against Cuomo, the state's Department of Financial Services and its superintendent, Maria Vullo. Its lawsuit comes after the DFS found that the NRA's "Carry Guard" insurance policy violates New York State law and directed its insurer to stop selling the policy as well as to pay a $7 million penalty.
NRA's Allegations Against Cuomo and New York State's DFS
In the complaint, the NRA alleged that DFS is "seeking to deprive" it and its members of their "First Amendment rights to speak freely about gun-related issues and defend the Second Amendment."
In addition, the NRA alleged that the state's DFS is coercing financial institutions to cut their business relationships with the group. It went on to say that it "suffered tens of millions of dollars in damages" because of DFS' actions.
Furthermore, the group claimed that it "will suffer irrecoverable loss and irreparable harm" if the court does not stop the DFS' actions.
The lawsuit states, "If the NRA is unable to collect donations from its members, safeguard the assets endowed to it, apply its funds to cover media buys and other expenses integral to its political speech, and obtain basic corporate insurance coverage, it will be unable to exist as a not-for-profit or pursue its advocacy mission."
Cuomo Describes NRA as an 'Extremist Group'
On Monday, Cuomo responded to the NRA's claims during an interview with CNN's John Berman. The governor condemned the group and its Carry Guard insurance policy, which he said "essentially insured" gun owners for "intentional bad acts."
Cuomo emphasized that Carry Guard violates the laws of New York and many other states. His administration took action against the insurance company, which agreed to stop selling Carry Guard in a consent decree. He added that the NRA was a broker for the insurance policy, and it was getting a commission and advertising. Therefore, it was also violating  state law.
"Too bad. You violated the law," Cuomo said to the NRA. "It's not a defense to say, 'Well, I was committing illegal activity, but I was making money from it and now I'm upset that I lost the revenue.'"
Furthermore, Cuomo "pleaded guilty" to the accusation that he is a longtime opponent of the NRA. He believes the group "represents an extremist group" and its politics seek to "stop any common-sense gun reform."
Moreover, the governor stated that the NRA is "oblivious to facts" and "caused carnage" in the country.
Separately, Cuomo sent a letter to his fellow governors encouraging them to stop the sale of NRA's Carry Guard.