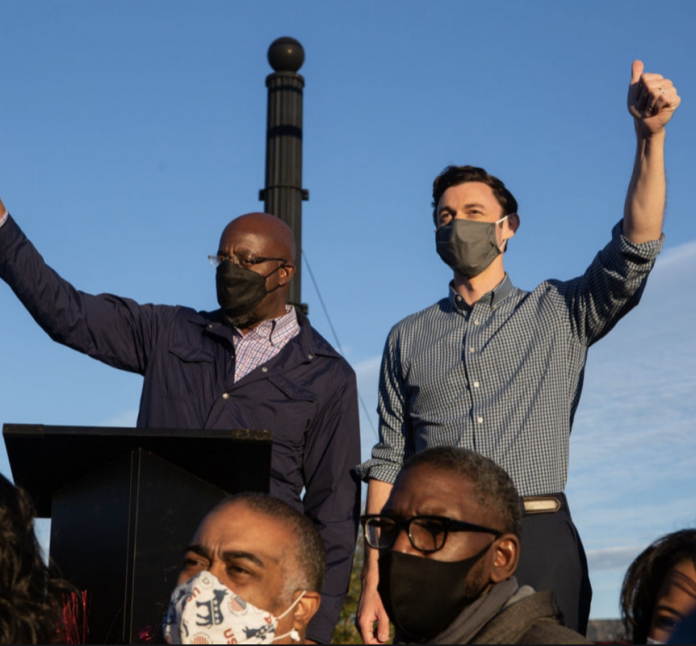 When it comes to ensuring that the Senate stays under a GOP majority, the Republican Party means business. Right now, incumbent and conservative Sens. Kelly Loeffler and David Perdue are running against two Democrats seeking to unseat them.
Jon Ossoff and Raphel Warnock, the Democrats in question, are therefore taking countless hits from the GOP. Should Ossoff and Warnock defeat Perdue and Loeffler, Republicans will lose majority control of the Senate; such a loss would give Democrats control of the White House, House of Representatives, and Senate at the same time.
No one attacked the Black church. We simply exposed your record in your own words.

Instead of playing the victim, start answering simple questions about what you've said and who you've associated yourself with.

If you can't — you shouldn't be running for U.S. Senate. https://t.co/j06y2mwlCm

— Kelly Loeffler (@KLoeffler) December 20, 2020
According to recent polls, however, Ossoff and Warnock are a few points behind their GOP rivals. The campaigning efforts from both Republican senators have played a role in this, as has criticism from the GOP.
The National Republican Senatorial Committee (NRSC) has repeatedly slammed Ossoff and Warnock in the Georgia special elections.
The NRSC vs. Jon Ossoff and Raphael Warnock
Like Perdue and Loeffler, the NRSC has repeatedly held Ossoff and Warnock to task on their policies and talking points. Last week, NRSC communications director Jesse Hunt issued a warning about both Georgia Democrats.
Hunt explained that while Ossoff is a "trust fund socialist," his fellow Democrat Warnock is a "radical's radical." The NRSC communications director, during an interview with Breitbart News, also stated that both Ossoff and Warnock have a radical leftist agenda they seek to force upon Georgians and the rest of America.
After making this assertion, Hunt offered supportive evidence. The NRSC communications director informed that Ossoff lacks personal accomplishments, yet maintains extensive business ties to China. During interviews, Ossoff has also gone on record with support for firearm restrictions and new economic lockdowns.
"You are the last line of defense in the U.S. Senate. Get out there between now and January 5. Vote EARLY. Do not squander this opportunity." – @DonaldJTrumpJr #GASen #gapol pic.twitter.com/KRZjauSd5y

— David Perdue (@Perduesenate) December 20, 2020
When Hunt moved to Warnock, he suffered from no shortage of material. Not only is Warnock supported by Defund the Police individuals, but the Georgia Democrat has also denounced police officers as "gangsters" and "thugs."
Hunt warned that Warnock is furthermore one of the "most extreme figures" to seek public office. Additional points of controversy for Warnock involve lauding Jeremiah Wright, praising Fidel Castro, and stating that it's not possible to serve the military and God at the same time.
To this very day, Warnock has not denounced Marxism, socialism, or communism. When Sen. Loeffler asked him to do so during their debate earlier this month, Warnock declined.
—————————————-
Have a story you want USA Herald to cover? Submit a tip here and if we think it's newsworthy, we'll follow up on it.
Want to contribute a story? We also accept article submissions – check out our writer's guidelines here.