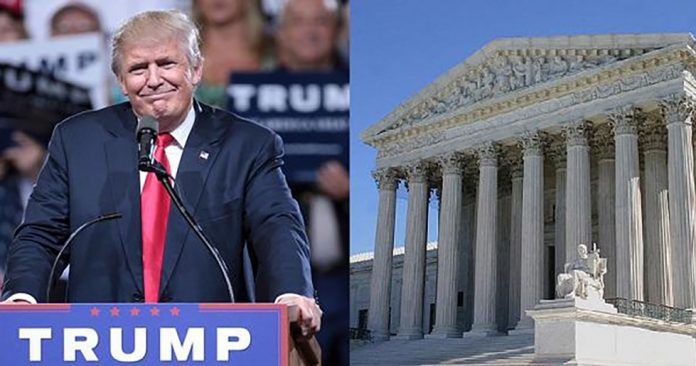 President Donald Trump's campaign filed another motion with the Supreme Court to change the results of the 2020 presidential election.
They filed an appeal to the court of the Pennsylvania Supreme Court's decision to allow the Pennsylvania state legislature's changes to mail-in voting prior to the election.
"This petition … has national importance, and there is a strong likelihood that the State Supreme Court decision violates the Federal Constitution," the statement, signed by Rudy Giuliani, former New York City Mayor and President Trump's personal attorney said.
The petition asked for remedies that included "including vacating the appointment of electors committed to Joseph Biden and allowing the Pennsylvania General Assembly to select their replacements."
The decisions in Pennsylvania involved signatures on mail-in and absentee ballots and the alleged inability of the campaign to watch the vote counting at the Philadelphia Convention Center.
Those decisions "likely changed the result in Pennsylvania and, potentially, the outcome of the overall Presidential election," the statement said.
"The Campaign also moved for expedited consideration, asking the Supreme Court to order responses by December 23 and a reply by December 24 to allow the U.S. Supreme Court to rule before Congress meets on January 6 to consider the votes of the electoral college," the statement said.
"The outcome of the election for the Presidency of the United States hangs in the balance because the selection of presidential electors is governed by the Constitution and congressional enactment, in addition to state law enacted by the Legislature," it said.
The president's team has filed a plethora of lawsuits, the majority of which were quickly dismissed by judges, often because they said they lacked evidence.
On Dec. 8 the Supreme Court rejected a suit brought by GOP Rep. Mike Kelly who said that the authorization of the mail-in ballots was in violation of the Constitution and asked the court to void all of the  2.5 million mail-in votes in the state.
"The application for injunctive relief presented to Justice Alito and by him referred to the Court is denied," the Supreme Court said.
—————————————-
Have a story you want USA Herald to cover? Submit a tip here and if we think it's newsworthy, we'll follow up on it.
Want to contribute a story? We also accept article submissions – check out our writer's guidelines here.