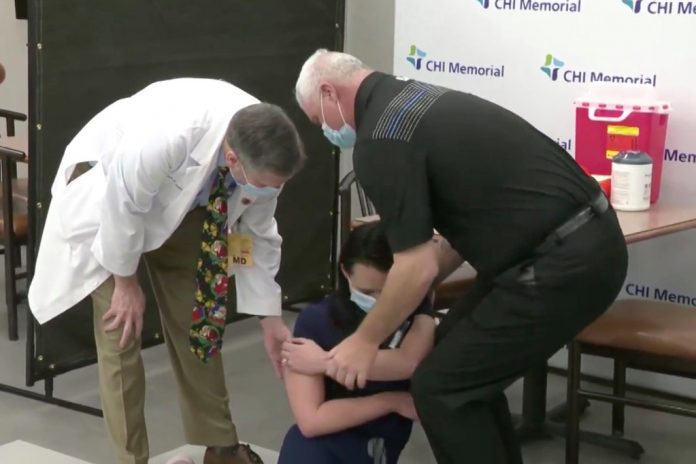 Shortly after getting the BioNTech-Pfizer COVID-19 vaccine, Tiffany Dover a head nurse at Chattanooga, Tennessee hospital fainted while talking to the press about it.
Tiffany, who is a nurse manager at CHI Memorial Hospital, received the Pfizer COVID-19 vaccine on Thursday. Seventeen minutes later, she suddenly fainted while giving a press brief about the process. The scary moment was caught on camera and it quickly circulated the web.
However, doctors claimed that the Pfizer COVID-19 vaccine ingredients had nothing to do with the episode. Tiffany later added that she has a condition that causes her to faint sometimes when she feels pain.
According to the station, Tiffany said: "It just hit me all of a sudden, I could feel it coming on. I felt a little disoriented but I feel fine now, and the pain in my arm is gone," 
The nurse's pass out video generated so many reactions in return, as there are still some doubts from the public about the vaccine treatment, especially with all the conspiracy theories and fake news. Nonetheless, Health officials all over the U.S. approved the distribution of the vaccine and are confident about it.
WATCH: Nurse passes out on live TV after taking vaccine in Chattanooga, Tennessee. Nurse Manager Tiffany Dover was okay and spoke again with local station WTVC, saying she has a condition where she often faints when she feels pain.

"It's common for me," she said. pic.twitter.com/wqUhX577vc