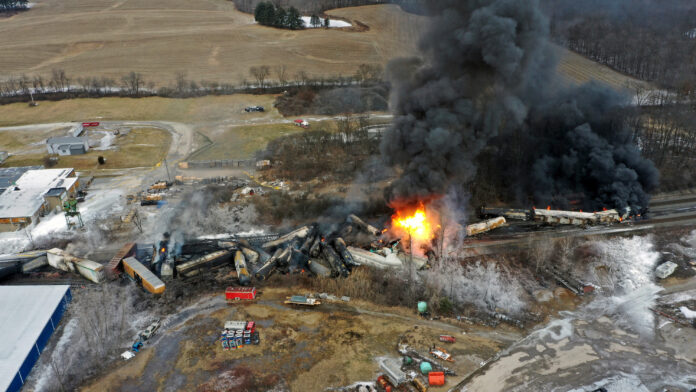 (USA Herald) – Residents in Ohio have filed dozens of chemical exposure lawsuits against Norfolk Southern Railway after a train derailment in February 2022 caused the release of hazardous substances that impacted air quality. While the suits mainly focus on vinyl chloride exposure, it's anticipated that a range of insurance policies will come into play for potential legal actions.
Experts predict that lawsuits related to environmental contamination, business interruption losses, and drops in stock prices could follow. The derailment, which has been linked to various medical conditions, required the evacuation of 2,000 residents living within a one-mile radius and regular monitoring of nearby drinking water wells.
Norfolk Southern has a $75 million self-insured retention, meaning its excess insurance won't be triggered until costs surpass that amount. However, experts say a few massive verdicts from personal injury suits for toxic exposure could quickly exceed that limit. Additionally, environmental liabilities from the discharge of vinyl chloride could result in significant insurance claims.
Exposure to vinyl chloride can lead to a range of cancers and other illnesses. Norfolk Southern is required to conduct all necessary actions associated with the cleanup of contamination, which includes identifying and remediating contaminated soil and water resources, reimbursing the EPA for cleanup services offered to residents, attending public meetings, and paying for the EPA's work.
The derailment has also affected Norfolk Southern's stock price, which could trigger derivative suits. Putative class actions over drops in stock prices typically allege that a company has failed to implement appropriate safeguards or mismanaged infrastructure. Norfolk Southern's leaders' knowledge of flaws in the train's components or issues with employee training and staffing could lead to lawsuits implicating D&O coverage. Railroad protection liability coverage, which protects the railroad from liability and exposures due to work performed by contractors and subcontractors, may also come into play.
Ohio residents are looking to their homeowner's coverage for damages, while local businesses may potentially recover losses due to being unable to access their premises during evacuation orders. Insurance policies that cover the costs of repairing railcars damaged by the derailment and cleaning debris from the site may also be implicated. It's uncertain if Norfolk Southern has such coverage.
Samuel Lopez, a legal news contributor for USA Herald, emphasized the importance of holding Norfolk Southern accountable for the derailment and ensuring that all impacted residents and businesses receive the compensation they deserve. The case is expected to be a lengthy and complex legal battle, with multiple insurance policies and legal issues in play.