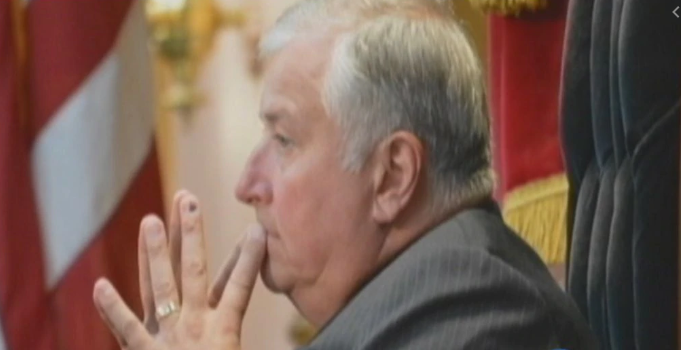 Larry Householder, Speaker of the Ohio House was arrested in bribery charges last Tuesday. Householder, along with four others are accused of perpetrating a $60 million bribery scheme involving taxpayer-funded nuclear power plant bailouts.
The complaint also names Jeffrey Longstreth, Householder's advisor, former Ohio Republican Party Chair Matthew Borges, Statehouse lobbyist Neil Clark, and Juan Cespedes, co-founder of The Oxley Group, a Columbus-based consulting firm.
All the defendants appeared in court. They weren't required to enter a plea. The judge ordered Householder released on his own recognizance, though he is not allowed to apply for a passport or have contact with the other defendants. He must also limit his travel to the southern half of Ohio and remove all guns from his home.
The next hearing is scheduled for August 6.
A $60 million bribery scheme
After the arrests, U.S. Attorney David DeVillers released a statement describing the nuclear plant ploy as "likely the largest bribery scheme ever perpetrated against the state of Ohio."
Just hours before, the FBI had raided Speaker Householder's farm. 
De Villers described the crimes as a connection to a taxpayer-funded bailout of Ohio's two nuclear power plants. The 82-page, FBI affidavit laid out the case in detail. 
Speaker Householder was the architect of House Bill 6 (HB 6), a law that passed in July 2019. The bill was widely criticized as the worst energy policy in the country. It gutted Ohio's renewable and energy efficiency laws while bailing out several coal and nuclear plants. 
HB 6 is the bill federal officials allege Ohio House Speaker Larry Householder and associates were bribed with $60 million to pass and prevent a referendum to funnel state funds to two failing nuclear power plants managed by FirstEnergy.
Householder was a vocal advocate for the nuclear plants' financial rescue. The bill added a new fee to every electricity bill in the state and directed over $150 million a year through 2026 to the plants near Cleveland and Toledo.
In her book, Short-Circuiting Policy, Leah C. Stokes described the process that resulted in the bailout legislation where she recounted, "By July 2019, the legislative session was over and FirstEnergy had not secured its bailout. Householder kept working, calling his colleagues back to the chamber with little notice. With narrow margins, he delivered the votes, and that same day Gov. Mike DeWine signed the FirstEnergy bailout into law."
"At the time, many wondered: Why the urgency, Mr. Speaker? Did you really have to call all the legislators back from their vacations to pass this coal bailout? It appears the FBI was wondering the same thing." 
Calls for Speaker Householder to resign, HB 6 repeal efforts
After Householder's arrest, Ohio Gov. Mike DeWine called for him to resign. 
"I am deeply concerned about the allegations of wrongdoing issued today by the U.S. Attorney's Office. Every American has the presumption of innocence until proven guilty," said DeWine. "Because of the nature of these charges, it will be impossible for Speaker Householder to effectively lead the Ohio House of Representatives; therefore, I am calling on Speaker Householder to resign immediately. This is a sad day for Ohio."
Speaker Householder is a veteran state lawmaker who was also Speaker from 2001-2004. He was term-limited and left state politics more than a decade ago. But he returned in 2016 and began the fight to win back the chamber's top job.
Two state representatives say they will be introducing legislation on Wednesday to repeal 2019's HB 6.
There were controversial efforts to block the bill from taking effect that included accusations of assault on petitioners, bribery, and scare ads involving China. The bill eventually passed the statehouse and was signed by Gov. Mike DeWine last summer.
————————————————–
Have a story you want USA Herald to cover? Submit a tip here and if we think it's newsworthy, we'll follow up on it.
Want guaranteed coverage? We also offer contract journalism here.  Just be sure you're comfortable giving up editorial control, because our journalists are dogged and will follow the story through to it's conclusion. The story will be published to our exacting standards, without regard for your preferred slant.
Want to contribute a story? We also accept article submissions — check out our writer's guidelines here.