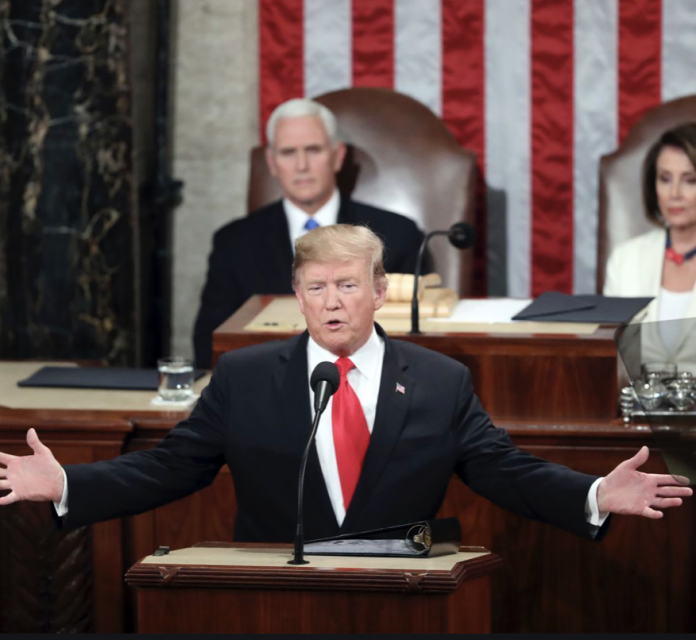 On Tuesday night, President Trump delivered the greatest State of the Union Address in American history. He completely knocked it out of the park by covering a plethora of important issues; from saying "no" to socialism to preserving private healthcare, improving the treatment of veterans, and more, Trump made clear that his presidency is all about putting America first.
During the 2020 State of the Union Address, the president did not discuss the impeachment sham; however, the Senate is expected to acquit Trump today.
Why Was the 2020 State of the Union Address the Best?
The president's tone, love for America, and adherence to the facts are some of the core elements that made his address so great.
Economic Improvements
Since the inception of Trump's presidency, his administration has delivered unspeakable gains for our nation's economy. Because of the 45th president, the economy is blessed with seven million new jobs. Unemployment rates have reached record lows for Americans across the board; this includes, but is certainly not limited to, women, veterans, Asian-Americans, black-Americans, Hispanic-Americans, workers without a high school diploma, and disabled individuals.
Under the current administration, wages continue to surge, as does consumer confidence and stock markets. These are solid facts that no one can deny — whether friend, supporter, hater, or foe of Trump.
Protection of Private Healthcare
As the 2020 Democrats campaign for the presidency, they make their agenda of ending private healthcare quite clear. However, during the 2020 State of the Union Address, Trump affirmed his commitment to shielding private healthcare.
An excerpt of the president's commitment reads as follows:
"There are those who want to take away your healthcare, take away your doctor, and abolish private insurance entirely. One hundred thirty-two lawmakers in this room have endorsed legislation to impose a socialist takeover of our healthcare system, wiping out the private health insurance plans of 180 million Americans. To those watching at home tonight, I want you to know: We will never let socialism destroy American healthcare!"
No Tolerance of Socialism
Congressional Democrats and leftists who seek the White House have declared war on capitalism. During last night's State of the Union Address, Trump made it clear that America will never become a socialist nation. This is an important message, especially since Democrats persist with their wealth shaming and harmful proposals to penalize success and expand government.
Acknowledgments of Others and Paid Tributes
President Trump's State of the Union Address did not only focus on his great and plentiful accomplishments. In addition to noting his successes, the president paid tribute to several great Americans, acknowledging their journeys, struggles, and triumphs.
Trump first honored Tony Rankins, an Army Veteran from Ohio. Rankins, who was previously homeless, is now thriving as a tradesman, thanks to the Trump administration's Opportunity Zones plan and tax reductions.
Trump additionally paid tribute to Charles McGee, the last surviving Tuskeegee Airman, and McGee's great-grandson Iain Lanphier, 13. The president informed Americans of Iain's plans to follow in his great-grandfather's footsteps. Shortly thereafter, Trump also explained that he promoted Charles McGee to the Brigadier General position and pinned the stars on his shoulders.
After the aforementioned acknowledgments, the president discussed the importance of everyone having access to the American Dream. This came before he awarded fourth-grade student Janiyah Davis with the Opportunity Scholarship and acknowledged Janiyah's mother's love and commitment to her daughter.
Final Thoughts
Compassion, recognition of American excellence, and a bright future are the elements which comprised the 2020 State of the Union Address. Trump's iconic address to the nation came on the heels of today's imminent acquittal in the Senate.