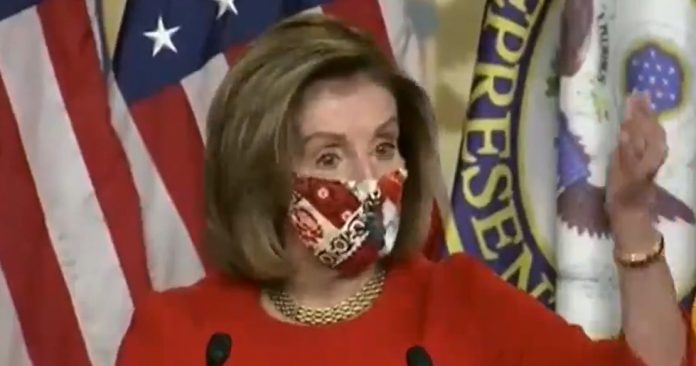 House Speaker Nancy Pelosi has just admitted that she stalled coronavirus relief for months and is "proud" of where everything ended up.
She got into a verbal jousting match with reporters on Friday over the way she handled the negotiations after she dropped her demand for a $2 trillion relief package and settled on something around half that size that does not include stimulus checks.
"Perhaps you missed what I said earlier. Joe Biden pledged to crush the virus," the Speaker snapped at a reporter. She said that Joe Biden, if he survives the legal challenges of President Donald Trump, wants to pass an even bigger bill when he is sworn in as president.
Nancy Pelosi admits it was her "decision" to block coronavirus relief for months pic.twitter.com/iHhVFTwrD1

— Steve Guest (@SteveGuest) December 4, 2020
"Don't characterize what we did … as a mistake," she said of her decision to hold out for months to get near a $2 Trillion deal only to settle for a deal just under $1 trillion. "It was a decision, and it's taken us to a place we can do the right thing. … I'm very proud of where we are."
Pelosi suddenly wants to do a deal, for more than $1 trillion less after the election is done. You have to forgive those who see this as a political move.
Now that she is confident that Joe Biden is about to be sworn in as president, she is willing to make the deal.
President Trump did not stand in her way, as he had been in favor of spending considerably more in a relief package, that included stimulus checks.
But the likely scenario is that Pelosi was terrified of the idea of people receiving stimulus checks before the election and giving credit to the president.
She would not admit that she reversed herself or made a mistake in holding out for the $2 trillion she initially demanded which would have given more aid to state and local governments. Pelosi, instead, characterized it as a partial win.
"This has simplicity. It's what we had in our bills. But that's okay now," the Speaker said. Pelosi said that in January next will be a "new president" who is going to "depend on science" and "understands America's working families need to have money in their pockets … without any of the entrapments the [Trump] administration was insisting on being in the package."
"I don't want Republicans to think it's a dream come true," Pelosi said. "It's not."
House Minority Leader Kevin McCarthy said this week about Pelosi's previous stance that, "The speaker, a number of weeks ago, said doing nothing is better than doing something. She's probably the only person in this country that believes that."
—————————————-
Have a story you want USA Herald to cover? Submit a tip here and if we think it's newsworthy, we'll follow up on it.
Want to contribute a story? We also accept article submissions – check out our writer's guidelines here.