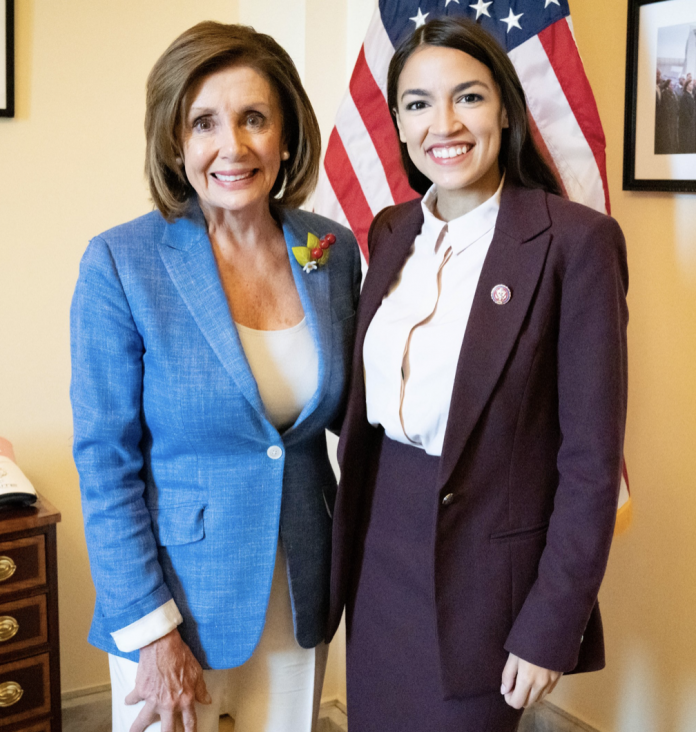 For several weeks now, Americans have bore witness to fighting within the Democrat Party. Left-wing divisions are overwhelmingly fueled by a culture of moderates vs. progressives. Overall, these two wings of the Democrat Party maintain fundamentally different approaches on directions to take the party. These differences of policies and opinions generated conflicts which are on full display for the rest of the country.
Divisions amongst the Democrat Party are evident in not only Congress but also amongst 2020 presidential candidates. However, leaders of the party are seemingly attempting to extend the olive branch and mend these divisons.
On Friday, House Speaker Nancy Pelosi met with freshman Rep. Alexandria Ocasio-Cortez in order to talk policy and working together.
A Closer Look at the Meeting Between Pelosi and AOC
Earlier this month, Pelosi and Ocasio-Cortez made critical public statements about one another. The statements largely pertained to votes on a spending appropriations bill and the manner in which the Speaker censured certain freshman representatives.
AOC came under fire earlier this month after inferring that certain statements made by Pelosi were motivated by "The Squad's" (Reps. Ocasio-Cortez, Pressley, Omar, and Tlaib) status as women of color. Ocasio-Cortez then later backtracked, directly stating that she does not believe Pelosi is racist.
Following the meeting, the House Speaker delivered remarks during a press conference. When asked about whether or not the meeting resulted in the two lawmakers burying a "hatchet," Pelosi challenged the undertones of this statement. According to the Speaker, "there was no hatchet."
Pelosi then went on to assert that diversity of thought exists within the Democrat Party.
"We are the Democratic Party. In our caucus, we have our differences. Respect that instead of making a big issue of it. We sat down today, we had a good meeting. The congresswoman is a very gracious member of Congress, so we had a very positive conversation."
Rep. Ocasio-Cortez also branded her meeting with Pelosi as "productive."
Today, Congresswoman @RepAOC and I sat down to discuss working together to meet the needs of our districts and our country, fairness in our economy and diversity in our country. pic.twitter.com/eVp1LS0Gpw

— Nancy Pelosi (@SpeakerPelosi) July 26, 2019
The End of Left-Wing Infighting?
Only time will dictate how the meeting between Pelosi and Ocasio-Cortez impacts the collective Democrat Party. There are still a litany of disagreements between progressives and moderates.
These disagreements will likely become more apparent as 2020 Democrat candidates prepare for the second primary debate.