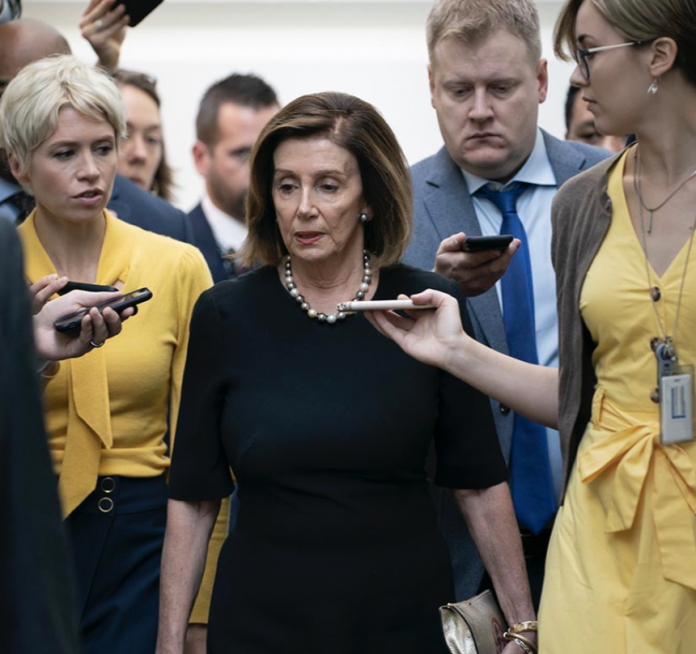 Last week, House Speaker Nancy Pelosi informed America that the House of Representatives will move forward with an impeachment inquiry into President Trump. This announcement came after a whistleblower accused the president of engaging in a quid-pro-quo with the leader of Ukraine.
Following Pelosi's decision to move in this direction, the RNC and Trump 2020 campaign raised five million dollars within 24 hours. Conservatives also began to point out that Pelosi and the House cannot unilaterally impeach the president.
As talks of impeachment persist, more Americans are bringing up the reality that this inquiry may very well backfire on the Democrat Party. However, Pelosi isn't all that concerned. As a matter of fact, when asked about what she thinks of the Democrats potentially losing their majority in the House, Pelosi claimed that this "doesn't matter."
Pelosi on the Impeachment Inquiry and Democrats Potentially Losing the House
On Saturday, the House Speaker traveled to Texas in order to share remarks at the Tribune Fest. 
During this time, Tribune CEO Evan Smith asked Pelosi if she feels anxious about Democrats losing their majority in the House if the impeachment inquiry backfires.
.@SpeakerPelosi: "I think right now, there's a cover-up of the cover-up." #TribFest19 https://t.co/365pEc5z9p pic.twitter.com/Jsi35ObwIc

— Texas Tribune (@TexasTribune) September 29, 2019
At this point, Pelosi stated that the potential loss "doesn't matter."
The House Speaker furthermore maintained that Democrats' "first responsibility" is to "protect and defend the Constitution of the United States."
In Pelosi's own words:
"People say you have to take a political risk doing that. That doesn't matter. We cannot have a president of the United States undermining his oath of office. [We cannot have a president undermining] his loyalty to his oath of office, undermining our national security, and undermining the integrity of our elections."
Reactions to the Impeachment Inquiry
The impeachment inquiry into President Trump has generated a series of responses. Criticism remains abundant from the right-wing; the left-wing, on the other hand, views this impeachment inquiry quite favorably. However, certain Americans on both sides of the aisle have noted the Senate's role in all this.
While Democrats maintain control of the House, Republicans are in control of the Senate. Since Pelosi's announcement, various Republicans have come out against the impeachment of the president. Most Americans believe that two-thirds of the Senate will not vote to impeach Trump, if legislation makes it through the House.
It's also important to note that House Democrats have previously voted on impeachment; each time, they've failed to achieve enough votes to pass legislation to the Senate.