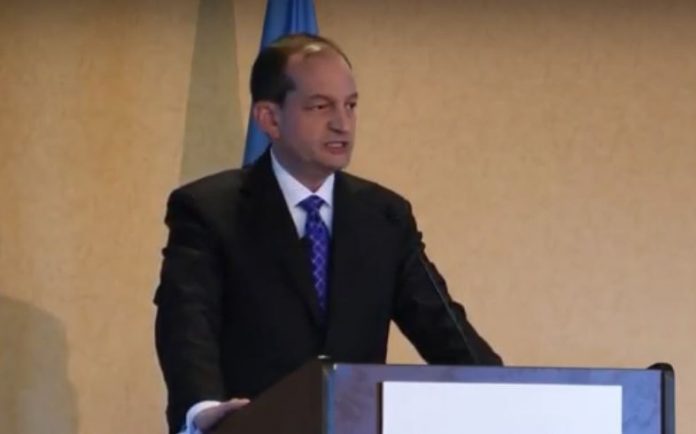 House Speaker Nancy Pelosi and Senate Minority Leader Chuck Schumer demanded the resignation of Labor Secretary Alexander Acosta over a 2007 plea deal with billionaire financier Jeffrey Epstein.
In a tweet on Tuesday, Pelosi said Acosta "engaged in an unconscionable agreement" with Epstein in 2007 during his term as U.S. Attorney for the Southern District of Florida.  The House Speaker noted that the plea deal prevented Epstein's victims from seeking justice.
.@SecretaryAcosta must step down. As US Attorney, he engaged in an unconscionable agreement w/ Jeffrey Epstein kept secret from courageous, young victims preventing them from seeking justice. This was known by @POTUS when he appointed him to the cabinet. #AcostaResign

— Nancy Pelosi (@SpeakerPelosi) July 9, 2019
Acosta approved a non-prosecution agreement, which in effect ended an ongoing FBI investigation into Epstein's alleged sex crimes. The deal required Epstein to plead guilty to two prostitution charges, register as a sex offender, pay damages to victims and serve 13 months in "custody with work release."
Schumer says Trump should fire Acosta
On the other hand, Sen. Schumer said Acosta gave a "sweetheart deal" to Epstein despite "overwhelming evidence' against him.
In his remarks at the Senate floor, Schumer said, "I am calling on Secretary Acosta to resign. It is now impossible for anyone to have confidence in Secretary Acosta's ability to lead the Department of Labor. If he refuses to resign, President Trump should fire him."
The Senate Minority Leader emphasized that "Acosta chose to let him off easy. This is not acceptable. We cannot have as one of the leading appointed officials in America someone who has done this."
Additionally, Schumer said, "Epstein should have been behind bars years ago. No one can figure out why Mr. Epstein was able to persuade U.S. Attorney Acosta not to prosecute."
On Saturday, law enforcement officers arrested and charged Epstein with sex trafficking of minors and conspiracy to commit sex trafficking of minors.
The U.S. Attorney's Office for the Southern District of New York filed the criminal charges against the billionaire financier.
On Monday, U.S. Attorney Geoffrey Berman said his office is "not bound" by Acosta's non-prosecution agreement with Epstein.