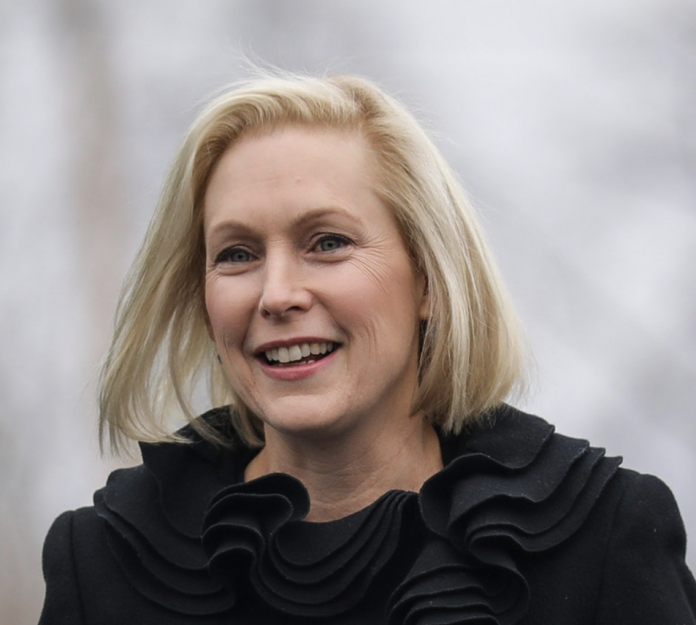 2020 Democrat candidate Kirsten Gillibrand is certainly working hard to become the next president of the United States. To improve her standing in the polls and amongst Democrat voters, she has released a new 30-second long campaign ad.
Gillibrand's ad will air on television this week; moreover, her ad is directly geared towards voters in Pennslyvania, Ohio, and Michigan. Notably, these are states which President Trump won in 2016, despite the odds against him.
Reviewing Gillibrand's "Broken Promises" Ad
In Gillibrand's ad, she showcases clips of President Trump on the campaign trail in 2020. Those chosen clips have then-candidate Trump talking about improving infrastructure, bringing back manufacturing jobs, and lowering the fees of prescription drugs. After these clips, Gillibrand's ad then displays "NO MORE BROKEN PROMISES" across the screen.
The obvious implication here is that the president failed to better American infrastructure, restore manufacturing jobs, or reduce prescription drug costs. Finally, the ad concludes with a voiceover of Kirsten Gillibrand vowing to "take on the fights no one else will." According to her campaign, running this ad on television for the next couple days costs tens of thousands of dollars.
President Trump has broken a lot of promises. Working families are struggling, and he's failed to deliver solutions. I won't.

Today we released our first TV ad, and we're making sure voters in states that Trump won see it. Help keep it on the air: https://t.co/GkimLAHGFi pic.twitter.com/FsyzaRASW3

— Kirsten Gillibrand (@SenGillibrand) July 9, 2019
As seen above, Gillibrand posted a video of the ad on her Twitter page. Subsequently, she is also asking her supporters for donations in order for the ad to remain on air.
How is the Gillibrand Campaign Coming Along?
Like many of the other Democrats in the primary election, Kirsten Gillibrand is struggling. Although she did make on the stage for the first Democrat primary debate, she barely met the requirements. For a period, her eligibility to appear on the stage appeared questionable.
Part of Gillibrand's struggles to rise in the polls and gain support is possibly attributable to the plethora of Democrats who are running. It's also worth noting that many of the Democrat candidates who are in the race lack the name recognition of the three leading candidates; the top three (thus far) are Joe Biden, Elizabeth Warren, and Bernie Sanders.
At this time, President Trump has not openly responded to Kirsten Gillibrand's campaign ad. As a candidate, Gillibrand remains active on Twitter and regularly posts about her campaign and what she has to offer the American people.
I'm Kirsten Gillibrand. I'm from upstate New York. I believe my purpose in life is to help people. And I'm running for president of the United States. pic.twitter.com/BZJXaFRIUI

— Kirsten Gillibrand (@SenGillibrand) June 27, 2019