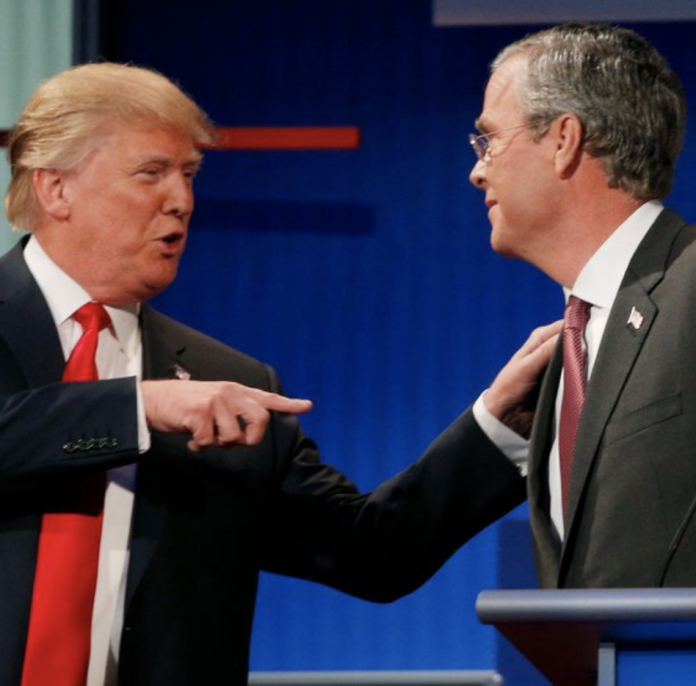 The 2020 presidential election is certainly proving to be more and more interesting. There are two dozen Democrats running in the current primaries and hoping to defeat President Trump in 2020.
The progressive desire to see the president beaten next year is very well-documented; however, there are certain individuals who want to see Trump challenged from within his own party. On Sunday night, actress Alyssa Milano expressed as much via Twiiter when she urged Jeb Bush to run for office.
Jeb 2020?
Jeb Bush ran for president of the United States in 2016; however, he ultimately dropped out during the GOP primaries. As Americans are very well aware of, then-candidate Trump went on to win the primary election and the general election. Last month, the president officially launched his re-election campaign, but certain individuals want Trump to face in-party competition.
Milano stated this in her tweet which asserted that Bush ought to consider running for office. See for yourself:
If were @JebBush, I'd seriously be considering a run.

— Alyssa Milano (@Alyssa_Milano) July 7, 2019
At this time, Bush has not responded to Milano. Also, there are no present indicators that Bush will challenge President Trump in the current presidential election.
Are There Doubts about the Democrat Candidates?
Alyssa Milano is very much on record as a left-wing activist and supporter of progressive policies. Therefore, her encouragement for Bush, a Republican, to run for office raises questions.
Democrats did not recieve the most positive reception after their first primary debate. Observers noted that candidates talked over one another; also, the amount of candidates on both stages ensured that not everyone got to answer every question.
Reviewing President Trump's 2020 Re-Election Campaign
The president and his campaign staffers have regularly maintained confidence in a 2020 victory. The Trump Team also expressed censured towards Democrats for supporting policies which many Americans view as extreme. The policies in question include Medicare-for-All, a Green New Deal, reparations for Americans who never experienced slavery, and free healthcare for illegal immigrants.
The president and other conservatives regularly call out progressive proclivities for socialism. Many on the right-wing believe that socialism is not a winning strategy or in alignment with the interests of most voters.
Additional developments pertaining to the 2020 presidential election will be covered on USA Herald.