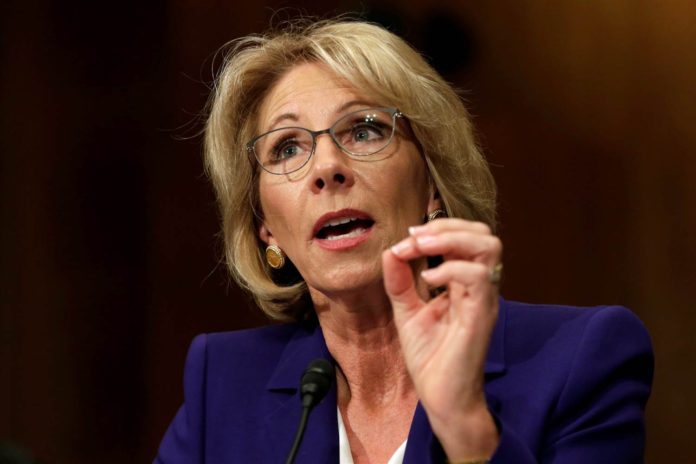 Pennsylvania Attorney General Josh Shapiro led a coalition demanding the Education Department to stop undermining critical protections for student loan borrowers.
On Tuesday, the coalition of Attorneys General (AG) from 18 states sent a letter to Education Sec. Betsy DeVos.  The AGs expressed concern about the termination of two Memoranda of Understanding (MoU) with the Consumer Financial Protection Bureau (CFPB).
Education Department's termination of MoUs with CFPB
Shapiro and his fellow AGs told DeVos that the agency's August 31 letter about the MoUs is "troubling." The Education Department's decision is "incorrect as a matter of law."
The Department of Education does not have exclusive jurisdiction over companies that service federal student loans (loan servicers). The CFPB, Federal Trade Commission (FTC), Department of Justice (DOJ), AGs, and other law enforcement agencies have jurisdiction over loan servicers.
The Congress did not exempt the $1.3 trillion federal student loan market from the jurisdiction of CFPB or other agencies. The Congress directed the CFPB to establish MoUs with the Department to coordinate assistance related to federal student loans or private education.
Additionally, they noted that the Department has been rolling back important protections for millions of families repaying student loans. The termination of the two MoUs was the latest in its series of actions against student loan borrowers. It will harm taxpayers because they own or guarantee federal loans.
Furthermore, they that Department misunderstood the work of the CFPB to protect students and families. The CFPB often partners with the Department and AGs.
Moreover, the AGs said Department abandoned its responsibility to protect student loan borrowers on several occasions. They took actions to address the agency's ill-considered actions over the past seven months.
AGs criticize Sec. DeVos
In separate statements, the AGs of California, New York, and Pennsylvania criticized Sec. DeVos.
California AG Xavier Becerra said DeVos consistently showed that she is not on the side of students. The termination of the MoUs with CFPB is the latest example.
"Secretary DeVos must stop cozying up with loan servicers and for-profit colleges. Educational institutions should exist to serve students. Enough is enough," said Becerra.
On the other hand, New York AG Eric Schneiderman said DeVos and the Trump administration repeatedly rolled back vital protections for borrowers. They put deceptive lenders above students.
Meanwhile, Pennsylvania AG Shapiro said, "Secretary DeVos is bending her own Department's rules to help lenders and borrowers who rip off Pennsylvania families. If Secretary DeVos won't protect students from these kinds of scams, we will."