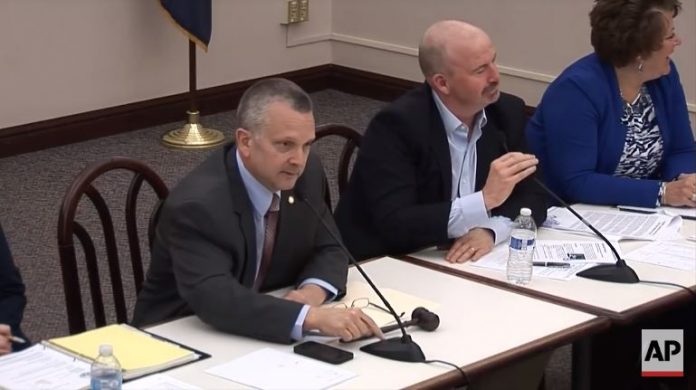 Pennsylvania Republican Rep. Daryl Metcalfe, who surprised his fellow lawmakers because of his homophobic tirade, rejected calls for his resignation. He said it will never happen.
Rep. Metcalfe is the chairman of the state's House Committee in State Government. During a Committee hearing, he suddenly reprimanded Democratic Rep. Matt Bradford for touching his arm. Many particularly Democrats considered his reaction a homophobic tirade, which was caught on video.
Metcalfe told Bradford that he is heterosexual, has a wife, and loves his wife. "I don't like men, as you might. Stop touching me all the time. Keep your hands to yourself. If you want to touch somebody, you have people on your side of the aisle that might like it. I don't."
At the time, Bradford just laughed but noticeably surprised by the outburst of Metcalfe. The other lawmakers in the room also burst into laughter. He then said, "I don't know where we go from here really. Let me make this suggestion that we do a motion to postpone…I think it is probably appropriate we have a side bar to talk about some of the…extraneous issues."
Bradford is straight and happily married. He and his wife have four children. During an interview with CBS 3, said Metcalfe "blew his lids as chairman. According to him, Metcalfe is well known for his "volatile character" and he "spiraled out of control" on Tuesday.
Metcalfe wanted to send a clear message
On the other hand, Metcalfe told the media network, "I think the majority of the population is heterosexual. The homosexual crowd thinks that they can, you know, flaunt their sexuality routinely throughout the course of the day and throughout our government now and debate after debate. I wanted to send a clear message to Matt Bradford that I don't appreciate his constant touching on my arm."
The Democratic lawmaker denied his Republican colleague's claim that he touched him multiple times in the past. Bradford emphasized that Metcalfe's behavior during the hearing was inappropriate. He discussed the matter to Pennsylvania House Speaker Mike Turzai.
Pennsylvania Democratic Party said Metcalfe is racist and homophobic
In a statement, the Pennsylvania Democratic Party said Metcalfe has been a problem in the Capitol. The GOP lawmaker invited white supremacists to support his positions. He defended white nationalist and refused to condemn racist violence.
Additionally, the Pennsylvania Democratic Party claimed that Metcalfe is racist and homophobic.
Its spokesperson Brandon Cwalina said, "Enough is enough. Daryl Metcalfe is a walking, talking embarrassment to Pennsylvanians and doesn't deserve the honor of serving in public office. We are again calling on Daryl Metcalfe to resign and to apologize to all Pennsylvanians for his ridiculously bigoted behavior."