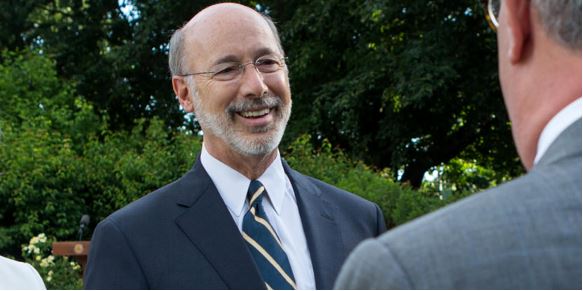 Pennsylvania Gov. Tom Wolf joined his fellow governors in a bipartisan effort to improve the performance of the U.S. health system.
On Friday, Gov. Wolf together with Governors John Hickenlooper of Colorado, John Kasich of Ohio, Bill Walker of Alaska, and Brian Sandoval of Nevada released a plan that focuses on the following principles.
Improving the affordability of healthcare coverage through insurance reforms.
Restoring stability to the insurance markets.
Providing state flexibility and encourage innovation to strengthen health insurance for all Americans.
Improving the regulatory environment to promote competition within state insurance markets.
In a statement, Gov. Wolf said, "I am pleased to join with my fellow governors to demonstrate how state efforts can be effective at streamlining regulations and cutting Medicaid costs, while ensuring there is still a competitive insurance market."
Additionally, he emphasized that he is always committed to putting the interest of Pennsylvanians first. He also dedicated to ensuring that consumers receive the vital, life-saving healthcare they need.
Yesterday, I joined bipartisan governors from across the country to propose reforms to our health care system that will make health insurance more affordable. https://t.co/JgNbTAOdYg pic.twitter.com/oUpJRCemIA

— Governor Tom Wolf (@GovernorTomWolf) February 24, 2018
Governors can achieve multiple, complementary objectives 
In their plan, the governors acknowledged the fact that there are issues that may divide them. However, they can agree on most issues and take action for the interest of their states and the nation.
They believe that they can achieve multiple, complementary objectives to improve the country's health system performance. These objectives are the following:
Make sure Americans have high quality of healthcare or reduce costs.
They can be fiscally responsible or be generous and humane.
Promote individual accountability or support people in need.
Embrace a national vision or address each market.
"Payers, providers, and consumers know that we must reorient our health care system on value. To achieve this goal, we must align consumer and provider incentives, encourage more competition and innovation, reform insurance markets, expand proven state Medicaid innovations, and modernize the state and federal relationship," as stated by the governors in their plan.