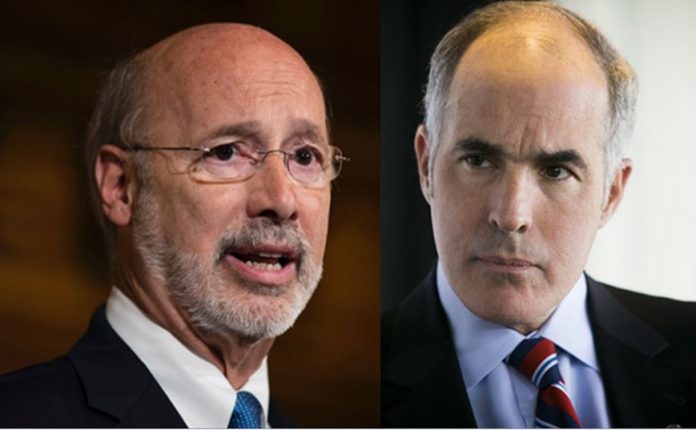 Pennsylvania Governor Tom Wolf and Senator Bob Casey criticized the Trump administration's plan to cut billions of dollars in funding for the Children's Health Insurance Program (CHIP).
CHIP provides health coverage for almost nine million children. The federal government provides 90% funding for the program and the remaining 10% comes from states.
On Monday, the White House asked the Congress to cut $15.4 billion in spending through a formal rescission request. It was less than the $60 billion, which President Donald Trump originally wanted to repeal from the $1.3 trillion omnibus spending bill.
Almost 50% ($7 billion) of the  spending cuts would come from portions of CHIP. The White House said $5 billion funding for the program already expired and cannot be spent and $2 billion in contingency fund is unnecessary.
Pres. Trump instructed the White House Office of Management and Budget to determine wasteful and unnecessary spending approved by Congress.
Proposal to cut CHIP funding is "shameful"
On Wednesday, Gov. Wolf  said CHIP provides high-quality health insurance for over 180,000 children in Pennsylvania.
"It is absolutely appalling that Republicans in Washington would put families at risk," he said in a statement.
Additionally, Gov. Wolf said the White House and congressional leaders shouldn't be cutting health care funding to appease special interests and extremists. They should work towards improving health care for kids and families.
"We shouldn't be diverting one dollar from this important program," said Gov. Wolf.
On the other hand, Sen. Casey said the Trump administration's proposal to cut CHIP funding is a "shameful betrayal of children."
"This Administration and congressional Republicans passed a massive tax giveaway to their donors and big corporations and now they want vulnerable children to pay for it. This is absolutely unacceptable. I will continue to fight for CHIP funding and I hope Republicans will join me," said Sen. Casey.