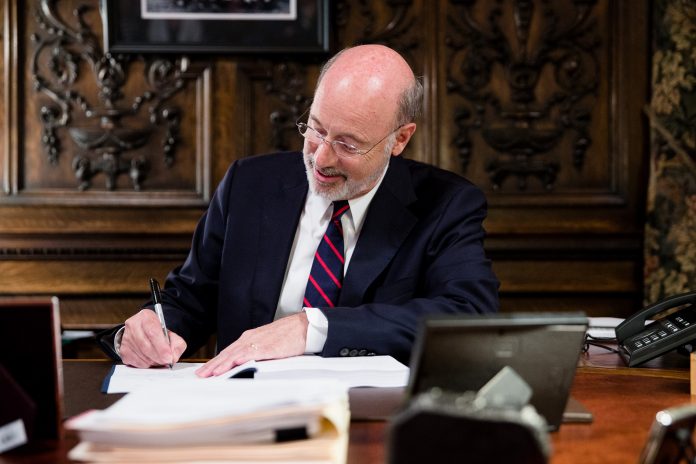 Pennsylvania Gov. Tom Wolf signed a pair of bills into law to strengthen police accountability and training as well as to improve its relations with the community.
House Bill 1841 requires a law enforcement agency to disclose the previous employment records of applicants, who must also undergo a comprehensive background check.
Additionally, House Bill 1841 authorizes the establishment of an electronic database containing the separation records of police officers. The Municipal Police Officers' Training and Education Training Commission (MPOTEC) will be responsible for keeping and maintaining the database.
Furthermore, the law also requires a law enforcement agency to complete a hiring report explaining its rationale for its decision to hire an individual whose separation records include a judicial finding of dishonesty, coercion of a false confession, discrimination, domestic violence, excessive force, filing a false report, harassment, sexual abuse or misconduct, and theft.
House Bill 1910 requires law enforcement officers to undergo mental health evaluations with a focus on PTSD to continue their employment. A law enforcement officer or a police chief may request the evaluation within 30 days of an incident of the use of a deadly force.
The law also requires training for police officers on trauma-informed care, use of deadly force, de-escalation and harm reduction techniques, community and cultural awareness, implicit bias, procedural justice, and reconciliation techniques.
The members of the Pennsylvania House and Senate unanimously passed House Bill 1841 and House Bill 1910 in response to the nationwide protests against police brutality. The protests were triggered by the death of George Floyd, an African-American who repeatedly said "I can't breathe" when a white police officer was kneeling on his neck while he was handcuffed and lying face down.
"We've addressed criminal justice reform on a bipartisan basis, and that's what we'll need to fix these longstanding inequities," Gov. Wolf said. "And as we go forward, we need to address the looming, systemic failings that have created this situation."
Improving law enforcement and keeping Pennsylvanians safer
During the bill signing on Tuesday, Gov. Wolf said the new laws will improve law enforcement and keep Pennsylvanians safer. Pennsylvania Attorney General Josh Shapiro joined Gov. Wolf at the signing.
"Today, Pennsylvania becomes one of the only states in the country to change its laws in the aftermath of George Floyd's killing. I heard the community in October, and worked to bring a breakthrough coalition of law enforcement leaders forward to get this done," said Attorney General Josh Shapiro.
He added, "This legislation will make all Pennsylvanians safer by preventing departments from unknowingly hiring officers with past records of misconduct, and it shows we can make meaningful improvements in our criminal justice system. We won't stop pushing for change until inappropriate police-community interactions, like what we saw that day in Minneapolis, are as rare as they are unacceptable
————————————————–
Have a story you want USA Herald to cover? Submit a tip here and if we think it's newsworthy, we'll follow up on it.
Want guaranteed coverage? We also offer contract journalism here.  Just be sure you're comfortable giving up editorial control, because our journalists are dogged and will follow the story through to it's conclusion. The story will be published to our exacting standards, without regard for your preferred slant.
Want to contribute a story? We also accept article submissions — check out our writer's guidelines here.