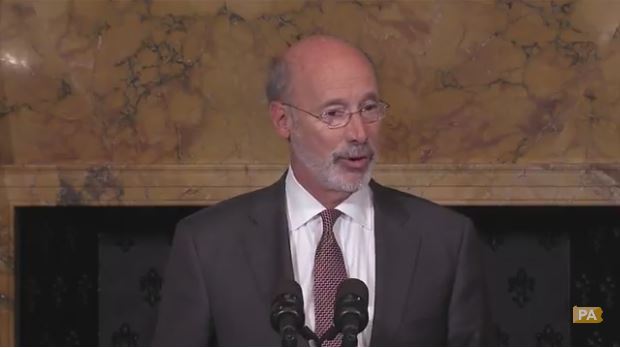 Pennsylvania Governor Tom Wolf vowed that he will continue his fight for the passage of a severance tax legislation.
Gov. Wolf expressed his commitment on the issue during his remarks at the Pennsylvania Press Club on Monday. He called severance tax a "common sense measure.
In his speech, the governor condemned the Republican-controlled House for refusing to vote on severance tax. He called the inaction an example of "Harrisburg dysfunction."
According to Gov. Wolf, "Last week, the House Republican leadership could have called up a vote on this tax on big oil and gas companies, but neglected to do so. It's well past time to pass a tax on shale. And we saw just that in the past few months after the repeated failure of the Republican House to finalize a budget deal and their refusal to pass a severance tax."
Pennsylvanians deserve a share in prosperity from natural gas
Additionally, the governor noted that Pennsylvania is the only major gas-producing state in the U.S. without a severance tax.
He said, "We are still the only natural gas producing state that has not taken this common sense step. The Independent Fiscal Office has said that 80 percent of the revenue raised by a reasonable severance tax would be paid by customers outside of Pennsylvania. Pennsylvanians deserve to share in this prosperity."
Furthermore, Gov. Wolf emphasized that severance tax should not be a partisan issue because it "makes sense. He reiterated that the politicians refusing to pass a severance tax want to see him fail rather than see Pennsylvania succeed.
According to him, their objective is "just plain wrong and the quintessential example of what's wrong with Harrisburg."
Pennsylvania Senate passed approved severance tax
In July, the state senate passed legislation to eliminate a $2.2 billion budget deficit. The legislation included heavy borrowing and tax increases on consumers' utility bills and online purchases among others. The legislation also included severance tax in natural gas drilling, which is expected to generate annual revenue of $100 million. However, the House rejected the Senate's legislation.
Before delivering his speech on Monday, Gov. Wolf signed several budget bills including the Administrative Code and the Fiscal Code. He also signed the legislation on Capitol Budget and the General Assembly's revenue package.