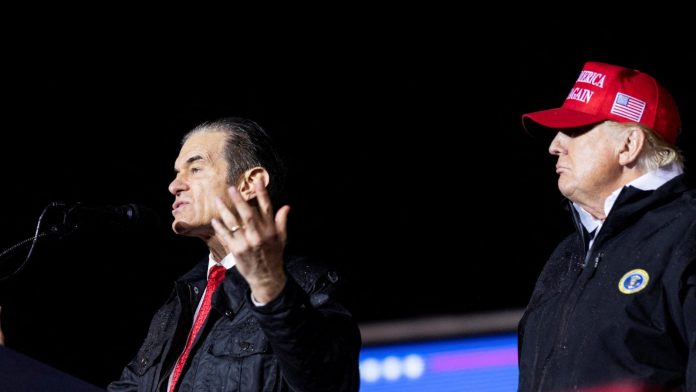 On Friday night, Republican candidate for Pennsylvania U.S. Senate Dave McCormick conceded to Dr. Oz. McCormick said that the ongoing statewide recount of the Pennsylvania primary would not give him the votes he needed to win.
The former hedge fund CEO McCormick officially ended his campaign. And the celebrity heart surgeon Dr. Mehmet Oz, 61, will be the Republican facing Democrat John Fetterman for Pennsylvania's U.S. Senate seat.
"It's now clear to me with the recount largely complete that we have a nominee," McCormick announced to his supporters at a Pittsburgh hotel. "And today I called Mehmet Oz to congratulate him on his victory."
Dr. Oz wins contentious Pennsylvania primary 
The primary has largely been seen as a fight between traditional Republicans for McCormick and the Trump populists for Oz.
Dr. Oz claimed the title of "America First" when he was endorsed by his old friend Donald Trump. 
It has been a bitter campaign. Millions of dollars were spent by both candidates on attack ads in the battleground state. 
The close contentious campaign led to a recount. The recount was automatically triggered since the margin between the candidates was 0.07 (less than 1 percent).  And Oz led McCormick by only 972 out of 1.34 million votes in the May 17 primary. 
In a last-ditch effort to close the gap with Dr. Oz, McCormick had pressed for undated mail-in ballots to be counted.
Finally, with his concession, McCormick vowed to help unite the party behind Dr. Oz, who thanked McCormick for his support.
Trump gets involved
It is believed that a Republican Senate win will keep the divided chamber in their control.
The Democrats have indicated that this Senate seat could go their way. Two-term Republican Sen. Pat Toomey is retiring. And preliminary polls show an opportunity for the Dems to win the seat. 
Early Friday Fetterman, the state's current lieutenant governor, stated that he had suffered a stroke just days before he won the Democratic primary. And that he had been ignoring warning signs and Drs. advice for years.
Oz, for years, was host of daytime TV's "The Dr. Oz Show." And he had to overcome a barrage of attack ads questioning his conservative credentials. Traditional Republican values about guns, abortion, and transgender rights were primary issues.
Trump jumped into the fray in the campaign's final two weeks. He held a rally for Oz. And accused McCormick of being the "candidate of special interests and globalists and the Washington establishment."