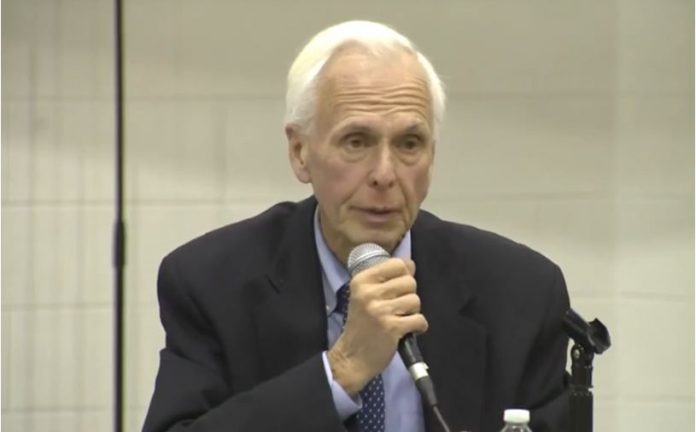 Pennsylvania Republican State Senator Stewart Greenleaf decided to not seek re-election this year. He represents the state's 12th district, which included the Bucks and Montgomery Counties.
Sen. Stewart is the Chairman of the Senate Judiciary Committee. He is the longest-serving lawmaker in Pennsylvania. He joined the state legislature in 1997 and served with distinction. The Caucus recently referred to him as a "giant of the legislature."
The state senator focused his career on criminal justice reform. He is the author of several constitutional amendments. One of his legislation, which was implemented in 1996, allows child witnesses to testify through closed-circuit television. Sen. Greenleaf sponsored the "Megan's Law" in Pennsylvania to help protect children from sexual predators.
He is also the sponsor of the state's "Puppy Lemon Law" and the smoking ban in public areas such as restaurants."
Sen. Greenleaf will serve Pennsylvania in a different way
In a statement, Sen. Greenleaf said he made the decision to not run for another term because he wants spend more time with his family. He wants to support them in all of their life's endeavors.
In addition, the state senator stated that he can still serve Pennsylvanians in other ways. He also emphasized that serving his constituents has been his "greatest honor."
Sen. Greenleaf said, "While I will miss the privilege of being a strong voice for justice for all people as a legislator, it does not mean I cannot continue to help others in our community in a different way."
"I'm not ready to close the book on my life just yet. Not running for re-election is simply the closing of one chapter of my life, but it begins another that I hope to be just as exciting and fulfilling," he added.
There is no Republican or Democratic idea
Furthermore, the lawmaker stated, "My mantra has always been that there is no Republican or Democrat idea." He emphasized that good ideas that are beneficial to the community deserves support.
According to him, "Listening to residents who don't live in the legislative echo chamber helped him greatly in his career. He found good ideas by listening to them.
During his career, Sen. Greenleaf spends time with the communities he represents. He conducts meetings with civic organizations and constituents and attends various activities. He also maintains a door-knocking schedule to visit and talk to residents in their homes.
Other retiring Pennsylvania Republican state lawmakers
Sen. Greenleaf is among the Republican state lawmakers who decided to retire. Last week, Sen. Chuck McIlhinney said he will not seek reelection this year. State Representatives Kathy Watson and Robert Godshall also announced their retirement.
Political observers believe that Democrats have better chance of winning more seats in the legislature this year.
Earlier this week, the Pennsylvania Supreme Court recently ruled that the state's electoral map is unconstitutional. The high court ordered the Republican-controlled legislature redraw the state's congressional map. Its deadline is on February 8.