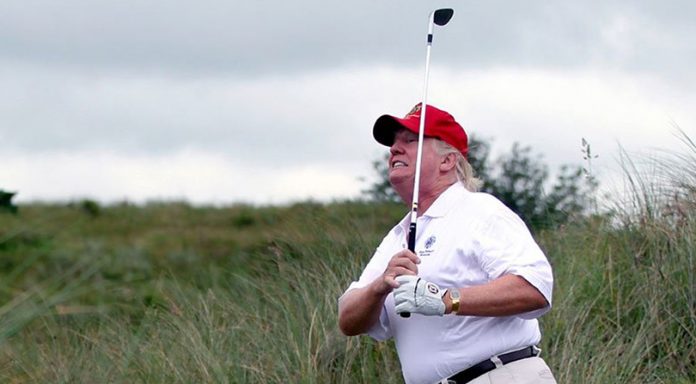 Late Sunday night, the Professional Golfer's Association of America (PGA), was the latest entity to distance themselves from President Donald Trump. The announcement stated the association has officially canceled the PGA Championship tournament from being played at the Trump Bedminster golf course.
In a statement released by PGA of America President, Jim Richerson said, "The PGA of America Board of Directors voted tonight to exercise the right to terminate the agreement to play the 2022 PGA Championship at Trump Bedminster."
Richerson gave a complete statement regarding the reasons for the contract termination and released a video which can be found on the organization's website.
"The PGA of America is [a] nearly 105-year-old association with a perpetual mission to serve its member golf professionals and to grow the game," Richerson said. "Fulfilling that mission for all and enabling PGA professionals to do so today and in the future is of paramount importance to the PGA board of directors and our leaders."
"It has become clear that conducting the PGA Championship at Trump Bedminster would be detrimental to the PGA of America brand," he continued. "It would put at risk the PGA's ability to deliver our many programs and sustain the longevity of our mission."
"Our board has thus made the decision to exercise our right to terminate the contract to hold the 2022 PGA Championship at Trump Bedminster," he concluded. "It was a decision made to ensure that PGA of America and the PGA professionals can continue to lead and grow our great game for decades to come. Thank you for your continued support and passion for the game we all love."
This is yet another blow to President Trump in response to the January 6 pro-Trump rally at the U.S. Capitol, which turned violent. The rally took place while Congress was certifying the Electoral College results, declaring Joe Biden as the official president-elect.
Most mainstream social media platforms banned or suspended President Trump accounts, the PGA joined the bandwagon.
This trend of disassociation will most likely continue for other large brand names associated with President Trump, despite the POTUS condemning any "acts of violence and destruction" and making the official announcement that he will be "ensuring a new focus of creating a smooth, orderly, and seamless transition" to the incoming administration which can be seen here.
Have a story you want USA Herald to cover? Submit a tip here and if we think it's newsworthy, we'll follow up on it.
Want to contribute a story? We also accept article submissions – check out our writer's guidelines here.