A pseudonymous Reddit user said he found 127 Bitcoins at his grandpa's old computer and sold them for $34,000 each. He became a millionaire overnight. The lucky man made over $4 million selling all of the digital assets, which he collected eight years ago.
In series of posts on Reddit, the pseudonymous user said that found "Bitcoins keys"  a long-time ago in an old computer at his grandpa's house. He also stated that he got paid in Bitcoin eight years ago for answering surveys and doing other online tasks.
At that time, the Reddit user was planning to use the Bitcoins to purchase an in-game currency called Uridium. However, he stated that he didn't buy any Uridium for some reason and ended up forgetting about Bitcoin, which wasn't a pricey cryptocurrency at that time.
The Reddit user wrote: I used to play Dark Orbit at my grandpa's house, and I was there for around a week during the holidays. While I was there, I was through his old Dell computer that I used to play the game and came across a .txt folder that was labeled 'keys.'
Moreover, the Reddit user claimed that he couldn't remember why he didn't buy the in-game currency and that he's happy that he actually couldn't. Eight years after the incident, the Bitcoin holder sold his collected Bitcoins into $4 million on January 3 when Bitcoin was trading under $34,000 each.
Redditers doubt the story
However, many Reddit users showcased their doubts about the story, and wondered how he sold that amount of BTC in a short period. Major cryptocurrency exchanges limit selling to a maximum od $100,000 per day.
In a follow-up post, the user says he sold the assets through an "OTC Principal Desk":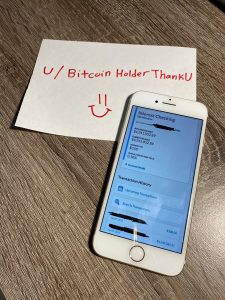 "Anyway, as the days went on I was able to find the most optimal solution which was to sell the assets through an OTC Principal Desk. I went back and forth between different companies and ultimately ended up selling all 127 Bitcoins for a price of $33,439.02 per coin minus a 0.15% fee. The net was roughly $4.24 million."
The user proved his claims when he shared a screenshot of his checking account with a balance of $4.2 million on January 7. Nevertheless, he said that he had to cover the title of the transaction because he can't reveal the name of the company he sold his Bitcoins to.
Although the Reddit user made a striking $4 million easily, he could have made an additional $1 million if he waited few more days, because the Bitcoin price surged to $41,000 since then, breaking a new all-time high record. 
Have a story you want USA Herald to cover? Submit a tip here and if we think it's newsworthy, we'll follow up on it.
Want to contribute a story? We also accept article submissions – check out our writer's guidelines here.