Pacific Gas and Electric stocks have rebounded slightly Tuesday evening after taking a steep nosedive last week.
California's largest utility provider suffered the stock blow after the company released a statement saying they had a problem with their transmission lines and substations in Butte County the day the deadly Camp Fire started in the small town of Paradise.
The Camp Fire began November 8th, and has since taken the lives of nearly 80 people, and decimated the entire town of Paradise. With all the devastation, and hundreds of people still missing, the State is looking for answers on how this fire started.
Although it isn't completely clear yet how the fire started, PG&E has released two statements saying they had issues in the area the day the fire began, and are looking into the problem. According the Associated Press, multiple people are even suing Pacific Gas and Electric, already convinced they are to blame for the fire.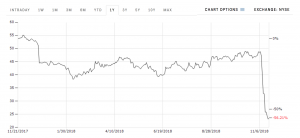 According to Markets Insider, PG&E stocks have dropped 56% from the start of the year. The stocks took a noticeable dive the day the Camp Fire started, and PG&E announced they had electrical problems in the area. Markets Insider also estimates that the steep stock loss is equal to a $13 billion decrease in cash flow.
PG&E has not taken responsibility for the fire, and won't until a full investigation has happened. The timeline for when the investigation will conclude is still foggy.
Although the town of Paradise in Northern California is basically gone, there are still many cities in the surrounding area and County that are without power. With the Thanksgiving Holiday coming up in just a few days, PG&E announced on their Newsroom site that they still have more than 2,000 personnel working around the clock to restore as much power as they can to the areas where power is needed after the fire took out hundreds of power lines.