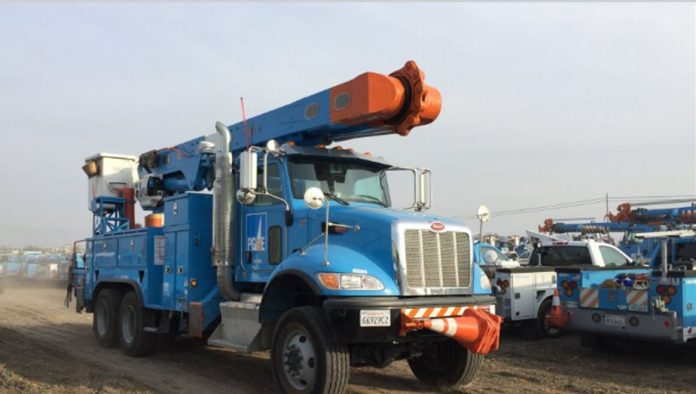 Pacific Gas and Electric Company (PG&E), the largest utility in California, is facing strong criticisms over its Public Safety Power Shutoff (PSPS) to prevent wildfire.
State regulators are also investigating PG&E due to its mishandling of its first power shutoff that affected hundreds of thousands of Californians. The company announced on Wednesday that 179,000 customers in 17 counties will experience blackouts because of the dry, hot and windy weather forecast in those areas.
PG&E said such weather condition "poses a higher risk for damage and sparks on the electric system and rapid wildfire spread."
Over the past several years, Californians are blaming PG&E and Southern California Edison, the state's second-largest investor-owned utility particularly their equipment for some of the most destructive wildfires in the state.
The companies are now implementing preemptive power shutoffs to prevent future wildfires.  PG&E said Californians should expect rolling blackouts over the next ten years as it upgrades its electrical systems that can withstand more extreme weather conditions due to climate change.
Critics say PG&E power shutoffs threaten people's lives
However, PG&E's critics are saying that the blackouts are threatening people's lives and shifting risk from the companies to the public.
Peter Gleick, a climate scientist and founder of the Pacific Institute in Berkeley, California told CNBC, "This is a utility owned by shareholders that is shifting risk from its own corporate entity to the public. It's shifting risk to individual homes and businesses that lose power and then can't operate. Are we now living in a society where fundamental basic services are cut off regularly to protect corporate interests? They can't impose this burden on people."
On the other hand Jack Brouwer, an engineering professor and director of the National Fuel Cell Research Center at the University of California, Irvine, commented, "There are lives at stake. I can't over emphasis the calamity that these events cause at the neighborhood level. Hundreds of health care facilities don't have back-up generators. If you're out of power for an hour, that's fine, but for a couple of days — those lives count as much as those that would be lost in a fire."
Gov. Newsom wants PG&E to issue rebates or credits to customers
In a letter to PG&E CEO Williams Johnson on Tuesday, Gov. Gavin Newsom reiterated that the "scope and duration" of the previous power outage was "unacceptable." He added that it was a "direct result of decades of PG&E prioritizing profit over public safety, mismanagement, inadequate investment in fire safety and fire prevention measures and neglect of critical infrastructure."
Additionally, the Governor wrote, "PG&E shareholders have an obligation to its customers following the failed execution of its previous PSPS decision. I continue to strongly urge PG&E to issue an automatic rebate or credit of $100 per residential customer and $250 per small business as some compensation for the hardship suffered.