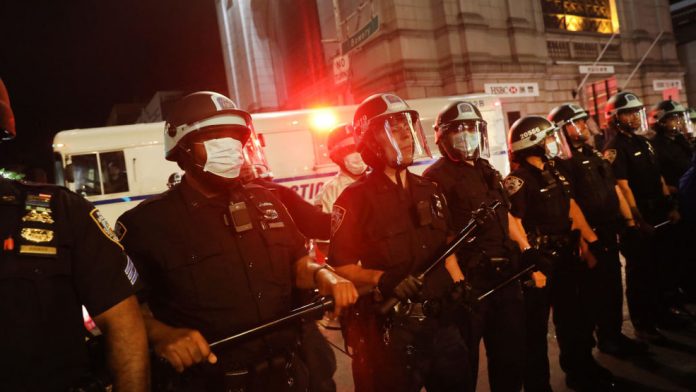 According to AP reports, over 100 Police agencies are withdrawing from agreements to provide security for the Democratic National Convention (DNC) scheduled for August 17 to 20 in Milwaukee, Wisconsin. 
The police agencies are concerned about a July 21 directive from the Milwaukee Fire and Police Commission citizen oversight group. The commission is believed to be one of the most powerful civilian oversight boards in the country. 
The directive does not allow Milwaukee to use tear gas or pepper spray and questions their use in the recent protests and riots. It also threatens that failing to comply with those directives could lead to discipline against Milwaukee Police Chief Alfonso Morales, even his termination.
Convention host cities typically recruit help for the massive event from other law enforcement agencies in their state. The upcoming convention in Milwaukee had reached out to police agencies to secure DNC security services.
Police back out of DNC security
Fond du Lac Police Chief William Lamb, chairman of the Wisconsin Police Executive Group, an organization of police chiefs from cities with populations greater than 20,000, announced that he anticipated more police would pull out of the DNC security.
"We respect the Fire and Police Commission's decision," Lamb said in an interview. "But in this particular case, we strongly disagree with the actions they've taken. We believe [that] in removing those tools, the use of chemical irritants or pepper spray, from the available resources that the law enforcement officers would have at their disposal if protests become non-peaceful would severely compromise the safety of the public and also the safety of the law enforcement officers who would be assigned to protect the DNC."
West Allis Deputy Chief Robert Fletcher also made a statement. His department echoes the belief that taking tear gas and pepper spray away from officers compromised their safety as well as the safety of the public.
"Our concern is that in the event protests turn non-peaceful, such a policy would remove tools from officers that may otherwise be legal and justifiable to utilize in specific situations," said Fletcher.  
Franklin Police Chief Rick Oliva sent a letter to Milwaukee Police Chief Morales last week. He claimed that his agency had decided not to send officers to help with convention security "due to recent decisions by Milwaukee elected and appointed officials."
"It is apparent there is a lack of commitment to provide the Milwaukee Police Department with the resources it needs to ensure the safety of peaceful protesters, attendees, citizens, and police personnel," Chief Oliva wrote. "I can not send personnel if they are not properly equipped or will not be allowed to engage in appropriate actions which would ensure their safety."
The Milwaukee Journal Sentinel reported that the chief said the agreement Franklin police had entered into had stipulated that officers would be given "sufficient resources to handle multiple unruly persons." 
However, departments who had signed up could pull out of the deal if Milwaukee "fails to comply with or perform any material term, condition or obligation contained in the agreement."
Waukesha Police Chief Daniel Thompson and Greendale Police Chief Ryan Rosenow have both expressed similar concerns to those of Chief Oliva.
Milwaukee police have reportedly refused to comment on the matter because they said releasing staffing information could compromise operational security.
Multiple other departments have said they will not be sending officers because of their own staffing shortages due to the coronavirus pandemic. Some departments did not give a reason for canceling.
There is now speculation that the live convention events may now be turned into an entirely virtual experience.
————————————————–
Have a story you want USA Herald to cover? Submit a tip here and if we think it's newsworthy, we'll follow up on it.
Want guaranteed coverage? We also offer contract journalism here.  Just be sure you're comfortable giving up editorial control, because our journalists are dogged and will follow the story through to it's conclusion. The story will be published to our exacting standards, without regard for your preferred slant.
Want to contribute a story? We also accept article submissions — check out our writer's guidelines here.