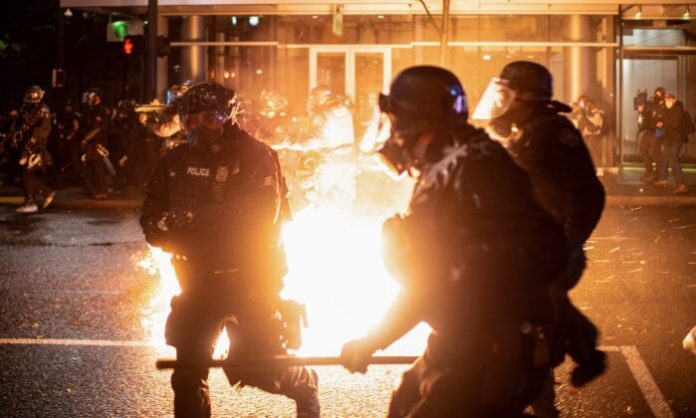 Downtown Portland was engulfed in violent riots on New Year's Eve, marking another night of turmoil for the West Coast city. Between 80-100 protestors clashed with the police.
It became immediately clear to the Portland Police that the group did not have peaceful intentions and instead sought violence. At 11:37 p.m. Portland Police sent out a tweet warning residents, saying:
"A gathering in downtown Portland has devolved into a riot. Participants have thrown multiple firebombs at officers and launched commercial-grade fireworks at the Federal Courthouse and Justice Center."
Andy Ngo, a reporter who has covered Antifa extensively over the years, tweeted video footage of the violent acts that occurred on New Year's Eve. The video shows protestors throwing fireworks and large objects at police in riot gear – a common tactic utilized by the activists.
In downtown Portland outside the Hatfield federal courthouse, antifa rioted for New Years by launching mortar fireworks and projectiles at police. #PortlandRiots #antifa pic.twitter.com/c66b4WJdjL

— Andy Ngô (@MrAndyNgo) January 1, 2021
It is worth noting that the Federal Courthouse and Justice Center in Portland has been the target of continuous attacks on the part of radical local activists demanding "social justice" for inequities in policing.
Following the initial tweet, local police then declared the gathering to be riotous in nature and ordered the dispersal of any persons in the area. Those who refused to evacuate the area were threatened with "arrest, citation and/or the use of force", including tear gas.
The Portland Police Bureau issued a statement on the riots that further corroborates the footage taken by Ngo.
"Officers were attacked with large rocks, full-size bricks, and frozen water bottles," PBB reported. "Some officers were targeted by paint balloons that may have been laced with a caustic substance as it caused burning to the skin. Some law enforcement officers suffered injuries, although no Portland Police officers were hurt."
The damage went beyond the Federal Courthouse and Justice Center, however. Andy Ngo took additional footage of smashed windows at Chase Bank in Downtown Portland along with other small businesses.
Antifa smashed up a Chase bank and numerous other businesses in downtown Portland after starting fires outside the Justice Center. #PortlandRiots pic.twitter.com/5hKptLjcol

— Andy Ngô (@MrAndyNgo) January 1, 2021
Rioters eventually left the scene at 2 a.m. after Portland Police utilized smoke canisters and rubber bullets to disperse protestors. According to PBB, no officer from the Portland Police department was injured during the riots.
A series of arrests were made during the riots but further details remain unknown at this time. Last night's events are far from an unseen phenomenon.
Portland has repeatedly made national news for its tumultuous political atmosphere which has largely targeted federal and local law enforcement.
Have a story you want USA Herald to cover? Submit a tip here and if we think it's newsworthy, we'll follow up on it.
Want to contribute a story? We also accept article submissions – check out our writer's guidelines here.