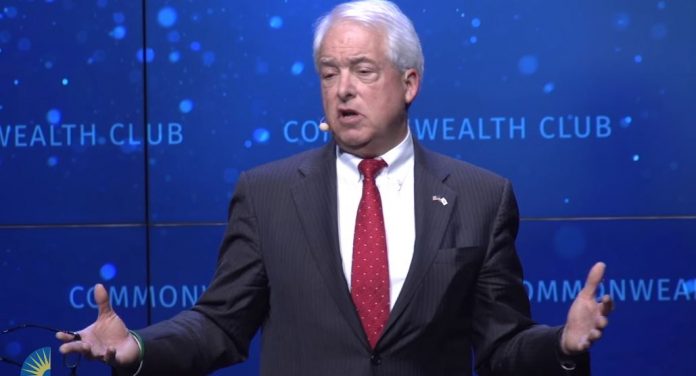 President Donald Trump endorsed John Cox, a Republican businessman seeking to become the next governor of California.
In a tweet on Friday, Pres. Trump said John Cox will be the best governor Californians deserve. He cited the reason that the Republican business =man understands borders, crimes, and lowering taxes.
California finally deserves a great Governor, one who understands borders, crime and lowering taxes. John Cox is the man – he'll be the best Governor you've ever had. I fully endorse John Cox for Governor and look forward to working with him to Make California Great Again!

— Donald J. Trump (@realDonaldTrump) May 18, 2018
In a statement, Cox expressed his deep gratitude for the Pres. Trump. He is "looking forward to working with him to make California great again." He added, "Like the President, I'm [a] businessman who knows how to get things done. We're going to secure the border, empower California small businesses, lower taxes and make our state affordable to everyone."
Based on the latest SurveyUSA election poll, 15% of California voters in the state favor Cox. He is supported by conservatives, whites, and suburbam men across the state.
On the other hand, 10% of Califonia voters support his Republican competitor Assembly Member Travis Allen. His supporters are whites, conservatives, and rural men and women.
Allen has been criticizing Cox for supporting libertarian Gary Johnson instead of Trump in the 2016 presidential election. During a debate last week, Cox said he  regretted hat decision. He also explained that at the time he wasn't sure if Trump was truly a conservative.
Cox is trailing Democratic candidates Villaraigosa and Newsom
Currently, Cox and Allen are trailing their Democratic competitors, Los Angeles Mayor Antonio Villaraigosa and Lt. Governor Gavin Newsom in the governor's race. The survey showed that 18% of voters favor Villaraigosa and 21% support Newsom.
In California, only the top two candidates in the June primary election will advance to the general election in November. Therefore, Cox needs to defeat Villaraigosa, whose supporters are men and women, independents, liberals, moderates, and some conservatives. The former Los Angeles Mayor also enjoys a significant support from Hispanics and Asians in the rural, suburban, and urban areas of the state.
Additionally, Villaraigosa is enjoying the backing of wealthy donors including former New York City Mayor Michael Bloomberg andNetflix CEO Reed Hastings among others.