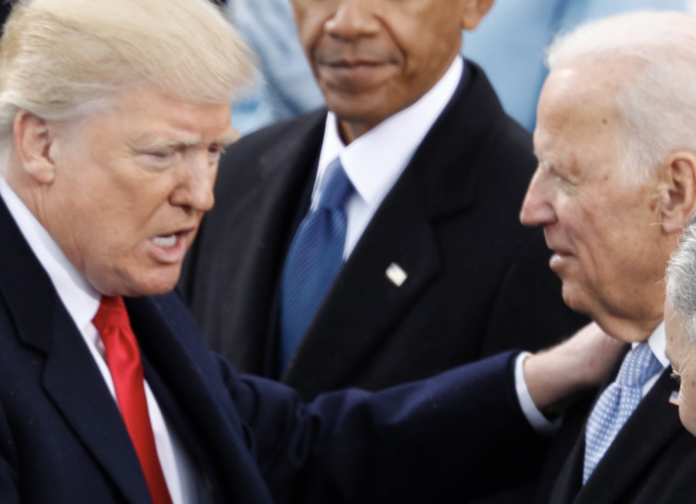 On Saturday evening, President Donald Trump shared his thoughts on the events which would ensue in the event of a fight with former Vice President Joe Biden, according to The Hill.
An Overview of the President's Remarks
During one of his rallies in Topeka, Kansas, President Trump shared the following statements:
"Remember [Biden] challenged me to a fight. 'I'd like to take him behind the barn.' I'd love that. That wouldn't last long. That would not last long. That wouldn't last long."
Trump then proceeded to state that Biden would fall down and "never get up."
Biden became a topic of the president's talks on Saturday in regards to potential 2020 contenders. The former vice president is one of many names to come up pertaining to Democrats who could potentially take on Trump during the 2020 election.
Like other Democrats, Biden is a very outspoken critic of President Trump. Earlier this year, Biden stated that he would have "beaten the hell out of Trump" behind the gym if the pair were high school students. The former vice president later expressed remorse for this manner of commentary.
However, after Biden's statement, the president issued a scathing, responsive tweet:
Crazy Joe Biden is trying to act like a tough guy. Actually, he is weak, both mentally and physically, and yet he threatens me, for the second time, with physical assault. He doesn't know me, but he would go down fast and hard, crying all the way. Don't threaten people Joe!

— Donald J. Trump (@realDonaldTrump) March 22, 2018
More on the President's Remarks in Topeka, Kansas
President Trump held a rally in Topeka in order to support Kris Kobach, the Republican nominee for governor and Steve Watkins, a GOP congressional candidate. Aside from Biden, the president spoke about trending, current events in politics. This involved Republican midterm candidates and current Supreme Court Justice Brett Kavanaugh.
The president furthermore criticized the current state of the Democrat Party. Trump slammed "radical Democrats" and urged his Kansas supporters to vote for Republican candidates next month.
"The Democrats are willing to cause such destruction in the pursuit of power. Just imagine the devastation they would cause if they ever obtained the power they so desperately want and crave."
Trump then spoke out against ongoing progressive calls to abolish Immigration and Customs Enforcement (ICE) and uphold sanctuary cities.
"Democrats also support deadly sanctuary cities that release violent predators and bloodthirsty killers, like MS-13, into our communities. Republicans believe our country should be a sanctuary for law-abiding Americans, not criminal aliens."