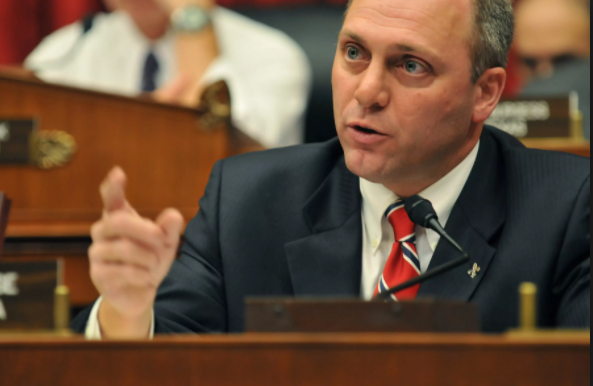 Earlier this morning, America was horrified to learn that Congressman Steve Scalise was shot during a baseball game in Alexandria, Virginia earlier today. Following this horrific occurrence, President Trump delivered a uplifting speech at the White House to ease the tension and update the people of this nation about the manner in which Scalise's shooting was being handled. Additionally, this nation learned of James Hodgkinson's death which was engendered during his apprehension. Throughout the speech, the President praised Steve Scalise, calling him a "patriot" and alerting everyone that he is now in stable condition.
Steve Scalise, House Majority Whip Representative of Louisiana, was shot by Hodgkinson with an M-4 assault rifle. Four other people were shot as well, but thankfully, intervention from Scalise's security detail halted additional tragedies. Further investigations into Hodgkinson revealed some very interesting facts and a backstory into who he was. For starters, he has an established pattern of violence. In 2006, he was taken into custody for discharge of a firearm and domestic battery. Additionally, he has also been accused of punching a man's girlfriend in the face, striking his own daughter, and roughly pulling her hair. On social media, Hodgkinson blasted Republicans as "racist and sexist" and affirmed his support for Senator Bernie Sanders. On May 22, Hodgkinson slammed Mr. Trump as a "traitor" and signed a petition to have the President and Vice President removed from office for treason.
During President Trump's commentary, he informed the country of his conversation with Steve Scalise's wife and affirmed the nation's support. "We are strongest when we are unified and work together for the common good," the President remarked. He also thanked Capitol Police, first responders, and Scalise's security detail. CBS News reports that chief of staff Reince Priebus, senior adviser Kellyanne Conway, and top aide Stephen Miller assisted the President with the construction of his speech earlier this morning.
Many Americans have taken to social media to express their concerns for Steve Scalise and give their thoughts on possible motives for Hodgkinson's misdeeds. A common attribution to the reason behind today's shooting is the consistent and blatant attacks that liberals and the mainstream media have launched against the President, his supporters, and conservatives in general. The pattern of displays that mocked and staged the death of President Trump are potential acts that may have inspired Hodgkinson. He loathed conservatives and seeing graphic images of conservatives' deaths most likely inspired him to take aim at Steve Scalise. While nobody other than Hodgkinson is responsible for his action, liberals need to understand that their the relentless attacks on conservatives and Trump supporters emboldens remorseless psychopaths like James Hodgkinson and places lives in danger.
President Trump's earlier White House remarks were warm, uplifting, and reassuring. He informed the American people of the swift action taken against Hodgkinson and the current state of Steve Scalise's health. While the events that happened in Alexandria, Virginia are quite unfortunate, it appears as though Steve Scalise will pull through and make a speedy recovery. Today's incident should serve as a lesson to all of the liberals and mainstream media pundits who enable and support those who advocate for the death of conservatives.