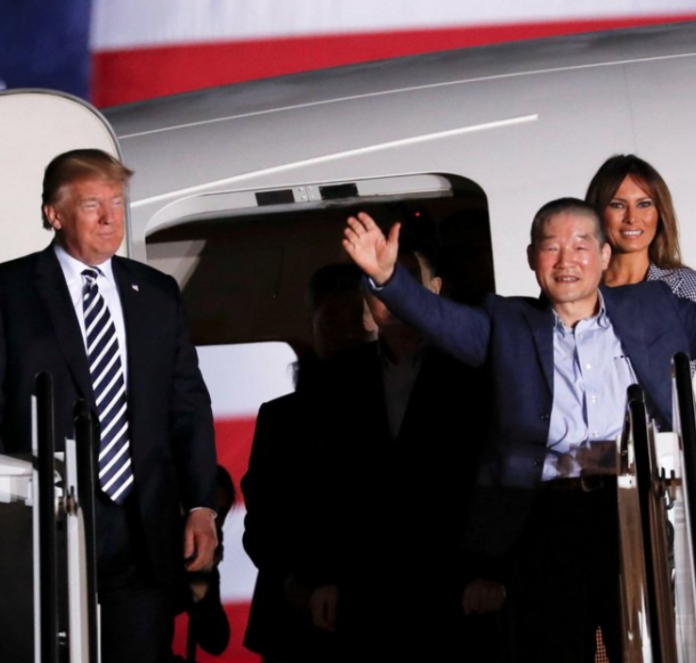 In the wee hours of this morning, President Trump and First Lady Melania Trump met three U.S. prisoners who were released from North Korean custody, reports The Hill.
An Overview of the Newly Freed Prisoners
The release of Tony Kim, Kim Dong-chul, and Kim Hak-song is what many are calling a large step towards diplomacy between the United States and North Korea. The foregoing men are also believed to be the last of American prisoners held in North Korea. Kim, Dong-chul, and Hak-song were detained on charges of "hostile acts" and espionage. However, the three men are now freed and moreover arrived in the U.S. shortly after 2:00 AM, accompanied by Secretary of State Mike Pompeo.
After the safe arrival of the newly freed men, President Trump delivered the hereinafter remarks to reporters:
"The fact we were able to get them out so soon was a tribute to a lot of things. I just want to say, this is a special night."
The Commander-in-Chief then shared his additional plans regarding work with North Korea:
"I'm very honored to have helped these great folks. The true honor is going to be if we have a victory in getting rid of nuclear weapons. We have a meeting scheduled in a very short period of time. We have the location set. We'll see if we can do something that people did not think was going to happen for many, many years."
Finally, the President thanked Kim Jong Un for freeing Tony Kim, Kim Dong-chul, and Kim Hak-song.
The Aftermath of the Release
News of the newly freed prisoners is currently making the rounds within the press. Americans are furthermore weighing in with their takeaways and opinions via social media. Many Trump supporters have lauded the President for the release of the aforementioned men. Tony Kim, Kim Dong-chul, and Kim Hak-song also received transportation to the Walter Reed National Military Medical Center following their return to the U.S.
President Trump is furthermore scheduled to meet with North Korean leader Kim Jong Un. The aforementioned meeting is likely to take place later this month or in June.